As floods sweep Midwest, individual out-of-pocket costs can reach hundreds of thousands of dollars
By Charles Watson
Published March 22, 2019
ROCK PORT, Mo. - The damage to property, infrastructure and loss of crops due to record flooding throughout the Midwest could climb to several billion dollars, according to Nebraska Gov. Pete Ricketts, who added his state  alone had sustained nearly $1.4 billion dollars in losses and damages.
Estimated flood losses for Missouri are unclear, but the state has experienced major flooding due to the rain and snowmelt that has inundated towns and communities with flood water spilling out from the Missouri River.
For Chad Ottmann the personal price tag for all the flooding is sadly clearer —at least when it comes to the damage sustained to his businesses. He has spent most of the week trying to salvage what he could from his cattle farm, office building and electrical shop that were all overtaken by several feet of water spilling at least four miles inland from the Missouri River.
NEBRASKA RESIDENTS FIND BEER FRIDGE WASHED UP IN FIELD AFTER FLOODING SUBSIDES
"On just my end, the shop, the office, the house. I don't know the number it [would] be. $200,000, $300,000?," Ottmann said as he stood looking at his property and hard work wasting away in water.
His home, which sits nearby, was spared from the flooding by a mere 7.5 inches. Ottmann said that's the closest he's ever seen water get to his late 19th century home. It remains a real concern because if his house gets hit by a flood, the loss would be major. Insurance is no longer an option.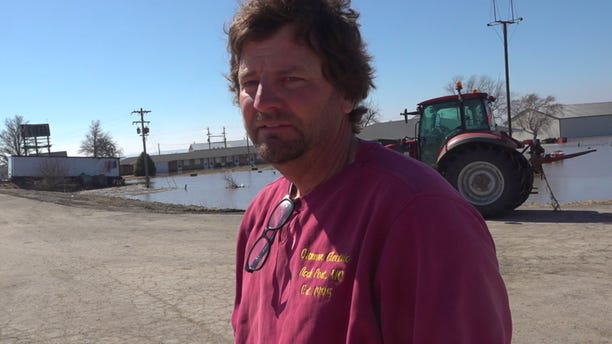 "That house, built in 1854, was surveyed out of the floodplain in [2007]," he said. "If you have a business? FEMA doesn't have anything to do with business. You're just done."
NEBRASKA GOVERNOR: WORST FLOODING DAMAGE IN OUR STATE'S HISTORY
As Ottmann and several employees hurried to grab what paperwork they could from the three feet of water that overtook his office, the thought of just packing up and moving elsewhere isn't even a choice as he deals with the his second '100-year' flood in eight years. He said he's in too deep.
CLICK HERE TO GET THE FOX NEWS APP
Rather than waiting for 'normal' times to appear again, Ottmann said he's going to adapt. His concrete shop will get cleaned up and used again. His next office will either be moved to higher ground or elevated about eight feet to spare it from any water when the next flood hits.
"We just have to change our plans a little bit," he said.
https://www.foxnews.com/weather/missouri-man-facing-hundreds-of-thousands-in-out-of-pocket-costs-due-to-flooding