World War II veteran takes ride in same B-25 bomber decades later
By ,
Published December 01, 2015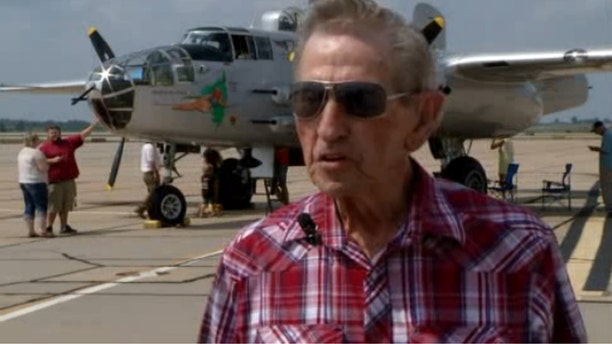 A Missouri World War II veteran who flew 18 missions in B-25 bombers was recently given the opportunity to take off on his 19th flight in the vintage aircraft -- this time as a passenger.
Marvin "Rusty" Russell, a former tail gunner in the US Army Air Forces, flew aboard a restored B-25 for the first time in nearly 70 years Thursday at Springfield-Branson National Airport, KY3.com reported.
Russell, 88, told the station he could not pass up the opportunity to see the historic bomber, which is maintained by the Commemorative Air Force Arizona Wing Museum in Mesa, Ariz.
"I saw the picture, and, when they said it was based in Corsica, I said, 'Well, it's got to be one of four squadrons.' And I came out here, and come to find out it was in my squadron," Russell said.
Officials with the Commemorative Air Force Arizona Wing Museum came across Russell's military records while attempting to locate members of the twin-engine bomber's original crew.
"We were going through the records and sure enough, two missions on number 18, Maid in the Shade. What a thrill, what a thrill," said Russ Gilmore, a fight operation officer with the museum.
The plane flew 15 combat missions over Italy between Nov. 4 and Dec. 31, 1944. The majority of the targets were railroad bridges, according to the museum's website.
"We got Rusty up in the back of the plane, into the tail gunner position, and Rusty had just a little bit of a tear in his eye," Gilmore said.
Russell, who flew two missions in the same B-25 in November, 1944, told KY3.com the flight brought back memories of his experiences in the aircraft, which he considered his "office."
"It was so much smaller back there than what I remembered. I laid it to blame on age that it's hard to get around in there," Russell told the station.
The restored B-25 will be on display in Springfield's until Sept. 16. The Commemorative Air Force Arizona Wing Museum has upcoming displays in Kansas, Oklahoma and Texas.
Click here for more from KY3.com.
https://www.foxnews.com/us/world-war-ii-veteran-takes-ride-in-same-b-25-bomber-decades-later