West Virginia teacher strike enters eighth day with no end in sight
By Christopher Carbone, ,
Published March 05, 2018
A statewide teacher strike in West Virginia entered its eighth day Monday without a clear resolution in sight—keeping 277,000 students away and particularly hurting those who rely on school-provided free meals in a state where the poverty rate is 17.9 percent.
Although teachers have said they want to return to the classroom, and continued to press lawmakers to come up with a solution, those on strike have said their backs are against the wall.
"We feel like we're under attack constantly," Cody Thompson, a social studies and civics teacher at Elkins High School, told the Associated Press. "Eventually whenever you're pushed into a corner, you've got to push back."
The walkout, which has garnered increasing support on social media, is the first teacher strike since 1990 in West Virginia, which ranks 48th in teacher pay in the country with average starting salaries of about $33,000. Educators in the state have gone four years without any pay increase.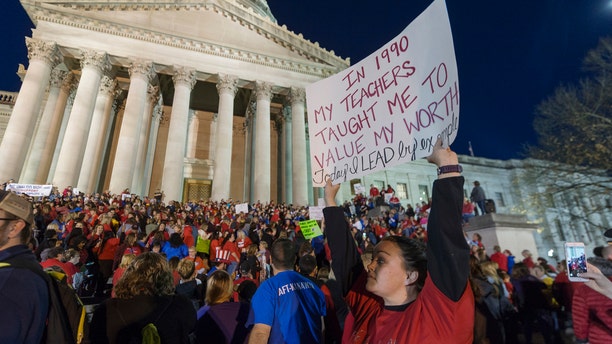 Teachers and other public employees have also faced increased premiums and higher deductibles for the last three years under West Virginia's beleagured Public Employees Insurance Agency (PEIA).
"[People] see us out here and think it's money—they think it's only about the pay raise. It is so not about the pay raise," Annette Jordan, a teacher at Hedgesville High in Berkeley County, told the Atlantic while holding a sign that read, "I'd take a bullet for YOUR child but PEIA WON'T cover it."
Jordan explained that because of structural changes to the health-insurance system, her family's monthly premiums would more than double starting July 1.
"What we're seeing is a movement in the U.S. Not just a labor movement. It's a class of people rising up," said Sam Brunett, an art teacher at Morgantown High School.
First, Republican Gov. Jim Justice signed a two percent pay raise for next year; the House of Delegates later approved a five percent increase, negotiated between Justice and the unions last week. But on Saturday, the state Senate approved a lower four percent increase, which prompted union leaders to vow to stay out of classrooms.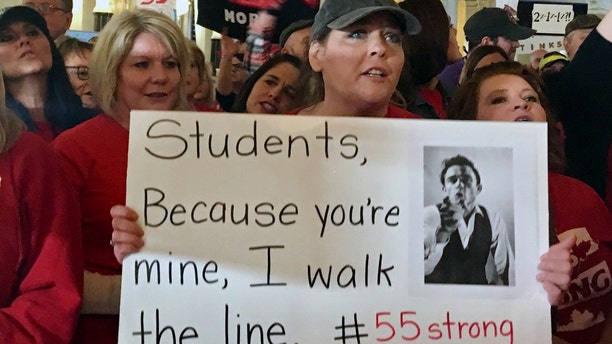 WEST VIRGINIA TEACHERS STRIKE CONTINUES AFTER SENATE CUTS THEIR PAY INCREASE
However, the House wouldn't agree to the Senate's move, sending the bill to the conference committee. A legislative conference committee appointed to resolve differences between the state Senate and House is scheduled to meet at 4 p.m. on Monday.
Some teachers in the state have taken side jobs in order to make ends meet.
Gov. Justice took to Twitter late Saturday to implore both sides to do what's best for West Virginia's teachers and students, saying: "The bottom line is we have to be able to fill teacher classroom vacancies and we MUST get our kids back in the classroom."
The Associated Press contributed to this report. 
https://www.foxnews.com/us/west-virginia-teacher-strike-enters-eighth-day-with-no-end-in-sight