Video shows 11-year-old girl jumping from moving car to escape Chicago-area carjacking
By Travis Fedschun, ,
Published May 09, 2018
Surveillance video shows the dramatic moment an 11-year-old girl jumped out the backseat of her father's moving car at a Chicago-area gas station to escape a carjacker Friday.
The Aurora Police Department released the video on Tuesday, showing the moment a man jumps out of a Dodger Charger and get into a Jeep Cherokee as the driver is pumping gas.
The carjacker then begins to drive off with the 11-year-old girl in the backseat before she jumps out and rolls in the parking lot.
The girl's father could also be seen in surveillance video leaping onto the hood of the accomplice's car as both vehicles speed away. Then father and daughter embrace.
WGN identified the pair as Mark Beasanski and his daughter Kayla.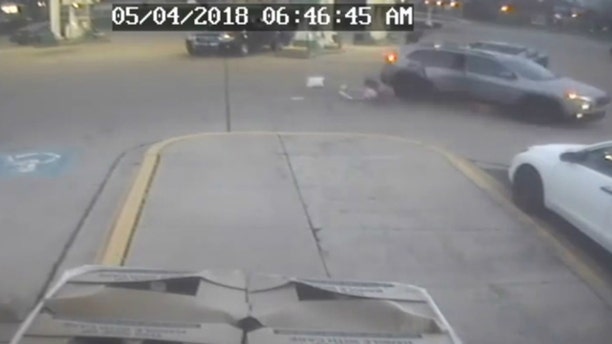 "Miraculously neither the girl nor her father were hurt," police said.
An Illinois State Police trooper spotted the stolen SUV less than an hour later on Interstate 290, and 20-year-old Tyrelle L. Pulley of Chicago was arrested following a brief chase.
Pulley is facing charges of aggravated vehicle hijacking, aggravated unlawful possession of a stolen motor vehicle and fleeing and eluding police. His accomplice is being sought.
DRUNK DRIVER CLOCKED AT 143 MPH, LEADS COPS ON DANGEROUS CHASE, OFFICIALS SAY
Aurora police said the incident shows that people can't let their guard down anywhere, even while filling the tank at the gas station.
"This is really sad to say about society today although he turned the vehicle off, you have to take the opportunity away from a brazen criminal to do something like this. It's an opportunity for thieves," Aurora Police Spokesperson Dan Ferrelli told WGN.
https://www.foxnews.com/us/video-shows-11-year-old-girl-jumping-from-moving-car-to-escape-chicago-area-carjacking