USS John S McCain leaves dry dock more than year after fatal collision
By Ryan Gaydos
Published November 28, 2018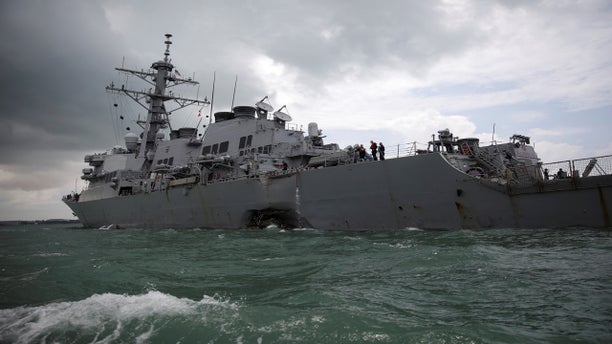 The USS John S. McCain left its dry dock in Japan on Tuesday -- more than a year after a collision with a merchant tanker killed 10 sailors and left five more injured.
The ship was pulled by tugboats from its dry dock at the Yokosuka Naval Base and sat between destroyers and cruisers as construction workers continued to make repairs, according to Military.com.
The vessel is expected to undergo sea trials next year, according to the Maritime-Executive. A spokeswoman for Ship Repair Facility-Japan told the website it cost $220 million to rebuild the destroyer.
The USS McCain collided with another vessel near Singapore on Aug. 21, 2017. The crash caused heavy flooding to a berthing area and led to the deaths of 10 sailors. The vessel didn't arrive to its home port until January because of the damage from the collision, according to Military.com.
The bodies of all 10 sailors weren't recovered until nearly a week after the collision.
The USS John S. McCain – named for the grandfather and father of the late U.S. Sen. John S. McCain III – made a "sudden turn" colliding with the Liberian-flagged merchant ship, the Singaporean government determined in March. Vice Adm. Joseph Aucoin was relieved of his duty as commander of the U.S. Seventh Fleet soon after.
Then in May of this year, Navy Cmdr. Alfredo Sanchez, who had served for more than 20 years, pleaded guilty to dereliction of duty in connection with the collision and retired.
Sen. McCain died of brain cancer at age 81 on Aug. 25 of this year, just four days after the one-year anniversary of the Navy vessel's collision.
https://www.foxnews.com/us/uss-john-s-mccain-leaves-dry-dock-more-than-year-after-fatal-collision