Truck driver fell asleep before colliding with car, school bus in Washington, officials say
By ,
Published November 30, 2015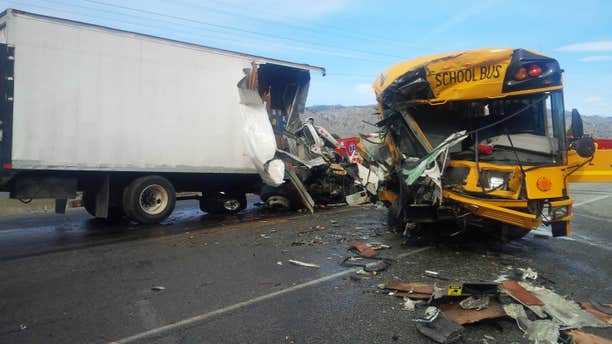 A truck driver apparently fell asleep Thursday before his vehicle crossed the center line of a rural Washington highway and collided with a car and a school bus, killing the car driver and sending dozens of students to the hospital for evaluation, the Washington State Patrol said.
"We do suspect the driver fell asleep," Trooper Darren Wright said.
Just over a year ago, the driver of the large box truck, identified as Kenneth Hahn, 54, of Yakima, was cited for crossing the center line in an injury collision in the same area, the State Patrol said.
Authorities said the car driver, Carmela Cuellar Morales, 22, of Orondo, died at the scene. A 12-year-old female passenger in her car was injured and taken to Central Washington Hospital in Wenatchee. Hospital spokeswoman Steph Grubich said the child was treated and released.
Forty-three students taken to the hospital after the bus crashed were sent home after evaluation and treatment if needed, authorities said.
The truck driver, a 36-year-old male passenger in the truck and the driver of the Orondo School District bus, identified as Pamela Robertson, 53, of Orondo, were reported in satisfactory condition Thursday night at the hospital.
With a voluntary blood sample from the truck driver, investigators will check for any evidence that alcohol or drugs played a role in the crash, Wright said.
Photos showed significant damage to the right front side of the bus. Part of its roof was caved in and windows were smashed. The front half of the box truck was destroyed.
"When the truck crashed the bus, I (fell) and the kids fell out of the seats," 6-year-old Jasmine Gaona told KOMO-TV of Seattle. She had a bandaged knee after being released from the hospital.
Hospital chief nursing officer Tracey Kasnic told KOMO there were "a few fractures" but mostly "bumps, bruises and lacerations."
The crash occurred about 8 a.m. on Highway 97, about 5 miles north of the small community of Orondo. The roadway was clear and dry at the time, and the weather was sunny and clear.
Orondo has one school, a combination elementary-middle school with about 160 students.
Douglas County Sheriff Harvey Gjesdal said it was the worst accident he had seen in his 30-year law enforcement career.
"Anything involving a school bus causes great concern — sad, sad," he said.
Millie Watkins, superintendent of the Orondo School District, agreed. "Obviously, this has been upsetting for everyone," she said.
https://www.foxnews.com/us/truck-driver-fell-asleep-before-colliding-with-car-school-bus-in-washington-officials-say