Tropical Storm Cindy: Video captures rescue of woman in submerged car
By ,
Published June 25, 2017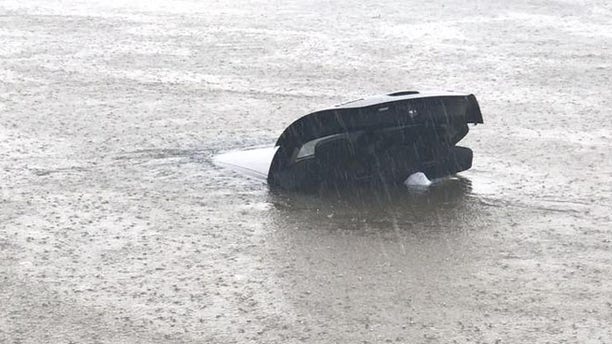 Quick-thinking strangers were caught on video rescuing a woman trapped in a submerged car in Alabama during Tropical Storm Cindy.
Scott Karcher and several other men waded into the water, formed a human chain and pulled the woman out of the car at a Chick-fil-A in Muscle Shoals Friday. She was not hurt.
 
Karcher's wife shot the video.
"My husband stopped and immediately jumped out to try and help the guy that was already there helping her," Kaycee Karcher told Fox 13 Tampa. "Water was already up to her chest and she was scared and wouldn't move."
The video runs 37 seconds. Karcher said her cellphone battery died so she was unable to record the final moments when the woman was pulled from the car.
"[I was] just scared and thankful for people to help her," Kaycee said.
The storm caused a flash flood, trapping the woman.
"There was running water, moving water, across the roadway. When she stopped at the stop sign, the current of the water pulled her vehicle into the drainage ditch," Muscle Shoals Police Capt. Tommy Skipworth told WHNT-TV.
He advised turning around if there is moving water in the roadway.
https://www.foxnews.com/us/tropical-storm-cindy-video-captures-rescue-of-woman-in-submerged-car