Teen Boy in Stable Condition After Shooting at Indiana School
By ,
Published November 30, 2015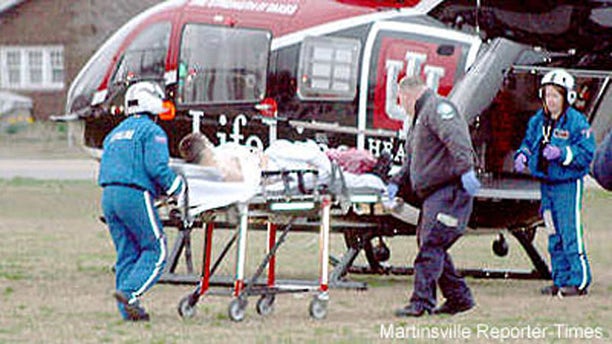 The family of the 15-year-old boy wounded in a central Indiana school shooting Friday says he is in stable condition after surgery.
Chance Jackson was taken to an Indianapolis hospital after he was shot Friday morning at Martinsville West Middle School, about 30 miles south of Indianapolis. Police say a 15-year-old classmate who had been suspended was taken into custody.
A family statement released by Methodist Hospital in Indianapolis says they appreciate all the prayers of support and asks for prayers for the families of all involved.
It was not immediately clear what prompted the shooting just after 7 a.m., about 20 minutes before classes usually begin. The suspect had been suspended two days earlier, and it wasn't clear how he got inside the school to attack the other boy, Durnil said.
"We have no motive at all at this point. We're talking to witnesses and schools officials to get to the bottom of it," he said.
WTHR-TV in Indianapolis said police believe the shooting stemmed from a dispute that started at a school dance last weekend.
Police believe only one shooter was involved in the incident and they have him in custody, Durnil said. Nevertheless, all schools in the district remain under lockdown as a precaution. Martinsville is a small city some 30 miles southwest of Indianapolis.
"We're still looking at all angles, to be sure," he said.
Michael Adams, who lives kitty-corner from the school, said he was woken by something that sounded like a gunshot, followed almost immediately by another.
"I thought it was a car backfiring or something," he said.
A short time later, Adams heard a helicopter and saw the distinctive flashing lights of police vehicles.
"This whole area was swarming with police and family members," he said.
Melissa Payne was just starting her shift as a registered nurse at the local hospital when her daughter texted her about the shooting. Payne has an eighth grader, Nathan, at the school. He had left his phone at home so she was unable to reach him.
"I just lost it, I was crying," she said.
She rushed to the school and just as she arrived, Nathan called her from someone else's phone to tell her he was OK.
By 10:45 a.m. she was waiting in line with other parents to sign release forms so they could take their children home. The school was locked down immediately after the shooting and no one was allowed into or out of the school.
Martinsville West Middle School is one of two middle schools in the Martinsville and teaches grades 6 through 8 and has about 600 students and 39 teachers.
The Associated Press contributed to this story 
Click here for more on the Indiana school shooting from Fox59.com
https://www.foxnews.com/us/teen-boy-in-stable-condition-after-shooting-at-indiana-school