Sex offender eyed in cold-case disappearance of Brittanee Drexel in South Carolina
By Cristina Corbin, ,
Published November 30, 2015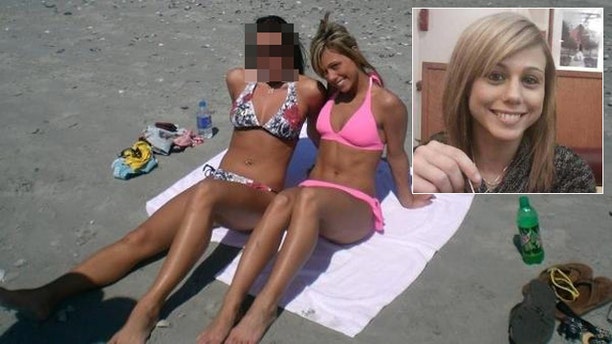 A convicted child rapist is being eyed by South Carolina cops in the disappearances of two young women, including a New York teenager who disappeared while on spring break in Myrtle Beach almost three years ago, FoxNews.com has learned.
Detectives say Raymond Moody is the primary "person of interest" in the 2009 disappearance of 17-year-old Brittanee Drexel, who was last seen on surveillance video leaving a popular Myrtle Beach hotel along Ocean Boulevard in a case that sparked widespread media coverage. Moody, who served 21 years in prison for abducting and raping a California girl in 1983, is also being looked at in connection with another missing woman, 28-year-old Crystal Soles, law enforcement sources told FoxNews.com.
Both women are presumed dead, though exhaustive searches in the rugged terrain between Myrtle Beach and Moody's home some 50 miles south of the popular destination have been fruitless. Authorities have classified Drexel's disappearance a "cold case," meaning they renew their probe whenever they receive credible, new information. Myrtle Beach investigators have received such information within the last week, though they declined to elaborate.
Drexel, a high school junior from the Rochester area, went with friends and without her mom's permission to Myrtle Beach on April 23, 2009. A video camera at the Blue Water Resort captured her leaving the hotel on April 25 close to 9 p.m., police said. The footage is the last known sighting of her.
Investigator Phillip Hanna of the Georgetown County Sheriff's Office said a signal from Drexel's cellphone was detected about 50 miles south of Myrtle Beach later that night – in a remote boat landing area near the South Santee River and roughly 8 miles from the Sunset Lodge apartments in Georgetown County where Moody had been living at the time.
Detectives revealed to FoxNews.com that Moody, a registered Level 3 sex offender, was in the Myrtle Beach area the same weekend Drexel disappeared. Capt. Joe Vella of the Myrtle Beach Police Department said Moody was issued a speeding ticket in Surfside on April 26, a day after the teenager was last seen.
Police said Drexel, a petite blonde and avid soccer player, had left a group of male friends from Rochester at the Blue Water Resort to walk back to the Bar Harbor Hotel, where she was staying with other girls.
After leaving the Blue Water hotel, Drexel texted her boyfriend back home to say she was headed for her hotel, but security video confirmed she never made it, police said.
Myrtle Beach detectives said they believe Drexel was abducted as she walked the one-mile stretch of Ocean Boulevard between the two hotels. She may have been snatched off the street, Vella said, or willingly accepted a ride "from the wrong person."
They also said Drexel was likely alive and with her phone when it gave off its last signal in Georgetown County. No activity was detected on her bank account since her disappearance and Vella said, "We don't think it was a robbery."
Moody served 21 years of a 40-year prison sentence after he abducted a girl from a California playground and sexually assaulted her in 1983. His convictions include three counts of rape with force and violence; two counts of lewd behavior on a child under the age of 14; and one count of assault with intent to commit mayhem, according to a state sex offender database on the South Carolina Law Enforcement Division's website.
Moody relocated to Georgetown, S.C., where his parents live following his release from the California State Prison in Solano in 2004. Moody, who police say works as a cabinet maker, could not be reached for comment.
Vella said Moody has refused to speak with authorities. Last August, police searched the unit at the Sunset Lodge apartments, where Moody moved into the day before Drexel disappeared. Investigators have not yet disclosed what clues, if any, they uncovered at the apartment.
"We cannot eliminate him as a person of interest," said Vella. He also noted that "one, possibly two" other individuals from coastal South Carolina are also "persons of interest," though he and other law enforcement sources indicated that Moody remains the primary focus.
Detectives with the Georgetown County Sheriff's Office and the South Carolina Law Enforcement Division said they are also investigating a possible connection between Drexel's case and the 2005 disappearance of Crystal Soles. Soles, 28, was last seen Jan. 24, 2005, in Andrews, S.C., and is believed to have been abducted as she walked home in the dark.
"We are checking for any similarities to see if there are any connections between the two [cases]," detective Phillip Hanna told FoxNews.com.
For Drexel's mother, Dawn, the anguish over her oldest child is as painful now as it was nearly three years ago.
"Every day is a nightmare," the single mother told FoxNews.com. "I miss her so much."
Dawn Drexel said she learned that her daughter, a junior at Gates Chili High School, had traveled to Myrtle Beach when she received a phone call April 25 saying the girl was missing.
"Panic set in," said Drexel. She said she spoke to her daughter earlier that day, believing she was still in Rochester and staying at a friend's house near Lake Ontario.
"I was buying her soccer cleats," Drexel said as she recalled their final phone conversation. "I said 'I love you' and she said 'I love you, too, I'll see you tomorrow.'"
Drexel said her daughter, whom she described as "very outgoing," had aspirations to become a pediatric nurse.
"She just loved children," Drexel said. "She had a smile that would light up a room."
https://www.foxnews.com/us/sex-offender-eyed-in-cold-case-disappearance-of-brittanee-drexel-in-south-carolina