Powerful storms destroy at least 10 homes in Tennessee, authorities say
By ,
Published November 30, 2015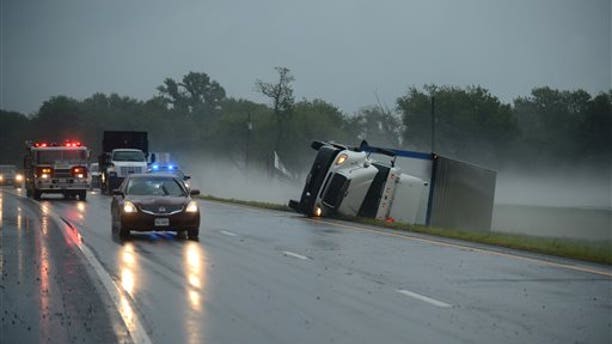 Powerful storms sweeping across eastern Tennessee destroyed at least 10 homes and damaged others Sunday night, though authorities said there were no immediate reports of any deaths or injuries.
Spokeswoman Gina Breeding with the office of emergency management in Tennessee's Claiborne County told The Associated Press that searchers were going door to door amid debris of ruined homes in the community of Speedwell. She said the county sheriff and his wife took refuge in their basement when their home was among those destroyed. He went to work at a command post, she said.
Dean Flenner of the Tennessee Emergency Management Agency said severe storms downed power lines, trees and damaged homes in seven of 36 east Tennessee counties. But he said there was no confirmation late Sunday of any possible tornadoes.
The damage comes as severe thunderstorms were expected Sunday night across portions of the Ohio Valley, southern Appalachians and Mid-Atlantic region, and the threat for a few tornadoes remained possible, the National Weather Service said.
The severe weather comes after a couple from New Jersey was killed Friday when a tornado ripped through the area, and a tree fell on their tent. Their 13-year-old son, in a tent next to them, had life-threatening injuries. He was among three dozen people hurt.
"I love thunderstorms, and I went out to see it," said Albert Thorn, of Monroeville, N.J., a camper at the site of the fatal accident. "There was a wall of gray — wind and rain. It was coming through the trees right at us. By then, we shut the sliding door and it was pounding them windows like you couldn't believe. You could hear people screaming before it even got to us."
When the tornado hit about 9 a.m. Eastern time, more than 1,300 people were at Cherrystone Family Camping and RV Resort along the Chesapeake Bay, a 300-acre playground of swimming pools, mini-golf, pier fishing, crabbing and other activities on the state's Eastern Shore.
"All hell broke loose," said Joe Colony, a Stephensville, Md., resident who has been coming to the campground for 30 years. "We got an emergency message on a cellphone and within 30 seconds, the thing hit and it blew down 40, 50 trees in the park."
Larry LeMond, chairman of the Northampton County Board of Supervisors, said a local high school would be used as a shelter for those who had nowhere else to go. Churches and other groups donated food and clothing. Weekends would typically draw 2,000 people to the campground, he said.
"In the summertime, it's the biggest town on the shore," LeMond said.
The National Weather Service issued a tornado warning for the area about the time it struck. Many at the park said they had only a few minutes of warning.
Across the country in Spokane, Wash., severe thunderstorms knocked out power to more than 60,000 customers and damaged dozens of homes Wednesday. One driver suffered life-threatening injuries when a tree slammed onto his car, impaling him. Severe thunderstorms swept through the northern Plains on Thursday and were moving on to the Deep South and mid-Atlantic.
Click here to read more from the National Weather Service.
The Associated Press contributed to this report.
https://www.foxnews.com/us/powerful-storms-destroy-at-least-10-homes-in-tennessee-authorities-say