Panicked 911 calls describe terror of Ohio rampage
By ,
Published December 01, 2015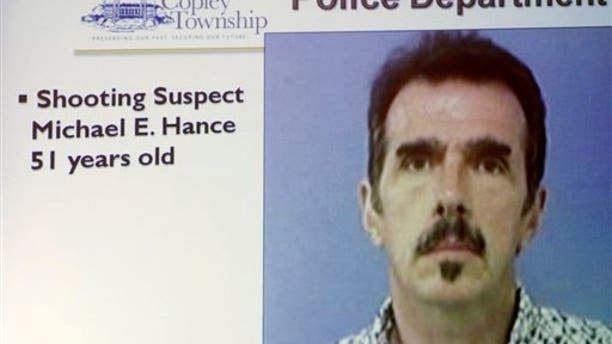 Emergency calls made to police as a gunman rampaged through a quiet neighborhood killing seven people before dying in a gunfight document panicked residents describing the unthinkable.
One breathless caller sounds as if she can't believe what she's relating to the police dispatcher on the other line.
"Someone is running around the neighborhood shooting a gun," the woman says in a 911 call to Copley Township emergency services in northeast Ohio. Then her voice rises: "Get down on the floor, you guys!" she shouts to people in the background.
At the request of The Associated Press and other media, Copley Township police on Wednesday released the calls made to emergency personnel beginning just before 11 a.m. Sunday.
The calls last from 10:55 a.m. to 11:06 a.m. When the shooting is over, seven people, including two teenage girls and an 11-year-old boy, are dead, and the gunman, Michael Hance, is killed in a shootout with police.
In one call, a man calmly says, "I want to report a shooting" while in the background a woman cries "Oh, my God," over and over again.
In another call, a man tells the dispatcher, "There's something laying in the driveway — I believe it may be a woman."
In a third call, a man reports that a man was outside a neighbor's house shooting a gun in the air.
He adds, "Before that, a kid came running into the neighbor's house screaming for help. The gentleman was circling the house. I don't see him right now."
That boy, 11-year-old Scott Dieter, was chased into the basement of the house where he sought shelter, hunted down by Hance and shot to death, police said.
"I'm so scared," another woman tells a dispatcher after locking herself in her basement.
The dispatcher warns her to stay where she is.
"Do not go upstairs, ma'am," the dispatcher says. "Don't put yourself in any danger."
Another caller says he can see the body of a woman lying on a lawn.
Dispatchers do their best to keep up with a flood of calls, at one point explaining to a caller reporting several bodies that apprehending the shooter was their first priority.
"They have to take care of that before they can get into the victims so no one else gets shot," the dispatcher says.
Police haven't said why they think Hance, an unemployed 51-year-old who last worked in a printer's shop, began the killing spree Sunday.
Neighbors in the Akron suburb where the shootings occurred say the violence stemmed from a dispute over the home where Hance lived with his longtime girlfriend, who was shot but survived.
Killed in the attack were Gudrun "Gerdie" Johnson, 64, and her husband, 67-year-old Russell Johnson; their 44-year-old son, Bryan Johnson, and his 16-year-old daughter, Autumn; Craig Dieter, of Walton, Ky., and his 11-year-old son, Scott; and 16-year-old Amelia Shambaugh, slain while in a parked car outside the Johnsons' home.
A northeast Ohio pawn shop said it sold a handgun last week to Hance.
Owner Tom Sydmor of Sydmor's Jewelry in Barberton tells the Akron Beacon Journal nothing seemed unusual about Hance when he came into the store five days before Sunday's rampage.
The newspaper on Tuesday reported that since Hance had no criminal record, he easily cleared a federal background check and took immediate possession of a .45-caliber weapon.
Police say federal authorities have been tracing two handguns linked to Hance.
__
Andrew Welsh-Huggins can be reached at http://twitter.com/awhcolumbus.
https://www.foxnews.com/us/panicked-911-calls-describe-terror-of-ohio-rampage