Ohio killings: Boy, 7, found shot to death after 3 adults killed, manhunt for 'person of interest'
By ,
Published October 12, 2017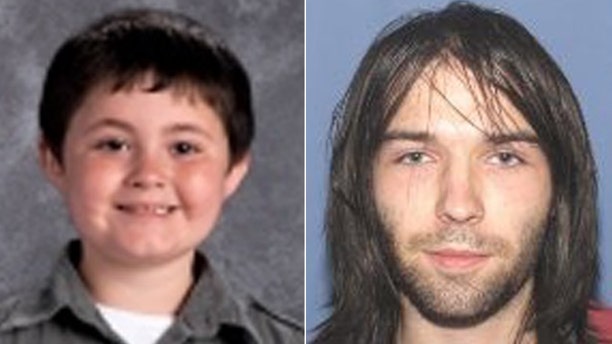 A 7-year-old boy reported missing after three adults were killed in a shooting was found shot to death in an Ohio home as investigators continue to hunt for a "person of interest."
The Lawrence County Sheriff's Office canceled an endangered-child advisory for Devin Holston after his body was found shot and hidden inside the southern Ohio home where three others were found shot to death.
Authorities said "person of interest" Aaron Lawson, 23, was spotted in a blue truck in Ironton, about 15 miles south of where the victims' bodies turned up. Deputies briefly chased Lawson before he crashed his vehicle into a ditch and bolted into the woods, Lawrence County Sheriff Jeffery Lawless said.
Deputies found the bodies of three adults inside a trailer in an unincorporated area of Lawrence County, and a fourth adult was found stabbed in the head and neck about a quarter mile away in another home, the sheriff's office said.
The wounded person was flown to a hospital in Huntington, West Virginia.
The boy, Devin, lived at the second home, the sheriff's office said.
Lawless told the newspaper that all those involved were "related in some way."
Investigators haven't publicly specified why Lawson is a person of interest.
None of the adults found dead or injured have been identified. The sheriff's office said releasing further information would compromise the investigation.
Agents from the Ohio Bureau of Criminal Investigation, including crime-scene and cyber unit investigators, are assisting Lawrence County with the case, said Jill Del Greco, a spokeswoman for BCI and the state attorney general's office.
Lawless said schools in the Rock Hill district were closed Thursday because of the attacks.
The initial report about the killings — violence against multiple people found at trailers belonging to related residents — recalled details from a still-unsolved homicide case that rattled rural southern Ohio last year. Still, investigators have no indication of a connection between the cases, Del Greco said.
The killings on Wednesday took place roughly 40 miles southeast of the Piketon area, where eight people from the Rhoden family were found shot to death in four homes in April 2016.
The Associated Press contributed to this report.
https://www.foxnews.com/us/ohio-killings-boy-7-found-shot-to-death-after-3-adults-killed-manhunt-for-person-of-interest