NY church backs out of federal plan to house illegal immigrant children
By Joshua Rhett Miller, ,
Published December 01, 2015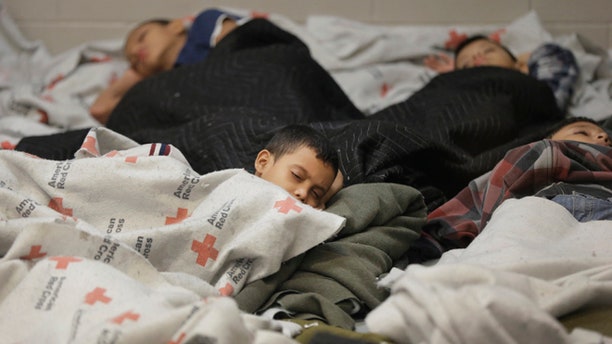 A New York church has dropped its proposal to temporarily house roughly 40 juvenile immigrants who have entered into the United States from Mexico, citing a missed deadline for the federally-funded program and a looming change in leadership.
Rev. Marc Herbst, an assistant to the bishop of the Metropolitan New York Synod-Evangelical Lutheran Church of America, told FoxNews.com that Holy Cross Lutheran Church in Commack has abandoned its plan to house the children for roughly 10-day stays.
"At this point, it just doesn't look like this is going to be feasible," Herbst said Tuesday. "At this point, it's not appropriate to make a decision at this moment because funding is not available and we're going through transition."
[pullquote]
Herbst said Lutheran church officials missed a federal deadline to apply for the unaccompanied alien children (UAC) program, which typically serves between 7,000 and 8,000 children annually. In 2012, that figure jumped to 13,625 and the overall influx of children — primarily from Guatemala, El Salvador and Honduras — is expected to reach roughly 60,000 in fiscal year 2014, according to U.S. Department of Health and Human Services (HHS) statistics.
The church's pastor, Rev. Dennis Walker, will also retire next year and the lack of stable leadership is not the best environment to welcome immigrant children in need, Herbst said. Messages seeking comment from Walker were not returned on Tuesday.
"We'd prefer to have the leadership in place," said Herbst, who referred to a statement from church officials when pressed for additional details.
"This issue remains of enormous importance to the synod," the statement read. "Recently, New York Bishop Robert A. Rimbo, a leader of Lutheran Immigration Relief Services (LIRS), traveled to our nation's capital to lobby our congressional leaders to provide greater services for those seeking asylum."
The proposal, however, reportedly drew strong opposition from some residents concerned with increased crime and decreased property values near the church.
"I think the whole neighborhood would be very happy if they drop the whole scenario," Jeff Bertuccio, 57, told Newsday.
One local immigration advocate told FoxNews.com she was "disappointed" by the decision, saying faith-based organizations have a duty to care for the children who came into the United States without an adult guardian.
"Faith-based organizations have a moral imperative to care for these children and to care for them with compassion," said Maryann Sinclair Slutsky, executive director of Long Island Wins, an immigrant advocacy group. "Thankfully, other faith-based groups from across the religious spectrum are coming to the aid of these children."
Slutsky said the decision by Holy Cross Lutheran Church "bucks the trend" among faith-based groups seeking to temporarily house immigrant children.
"How we treat these children reflects our commitment to the values that define us as Americans," Slutsky continued. "We share the human value of compassion and that means helping these children. We should protect these children who come to us seeking safety."
Kenneth Wolfe, deputy director for public affairs at the U.S. Department of Health and Human Services' Administration for Children and Families, said the agency is adding 34 standard UAC program shelters to the approximate 100 shelters already funded.
Meanwhile, from California to Illinois to New Mexico, churches and religious organizations have opened their doors for undocumented immigrant children, most of whom are at least 14 years old and overwhelmingly male. The average length of stay in the $868 million program is currently about 35 days and some 85 percent in total are eventually reunited with their families, HHS officials say.
In Fontana, Calif., 46 immigrants with temporary visas arrived last month at St. Joseph's Catholic Church, where residents reportedly gave them a much warmer welcome compared to earlier protesters in Murrieta.
"Many of us in the community came here the exact same way," resident Maria Manriquez told The Los Angeles Times. "We went through the same thing. Just how they're suffering now, that's how we suffered."
The Archdiocese of Chicago, the third-largest diocese in the country with more than million members, is also seeking to house up to 50 children and to provide other related services. Spokeswoman Colleen Dolan told FoxNews.com that the diocese is still awaiting a response from the U.S. Department of Health and Human Services since submitting a proposal last month.
"We will have to wait and see," Dolan wrote in an email.
In New Mexico, the Diocese of Las Cruces was expected to house about 280 people following their release by federal immigration authorities, according to Thomas Baca, executive director of Catholic Charities in Las Cruces.
"Right now we are working on raising money, applying for grants and getting the parish ready so people can take showers," Baca told The Associated Press in June.
The Holy Family Institute in Emsworth, Pennsylvania, is also reportedly seeking to hire and train up to 20 new employees so it can house roughly 20 children.
"The call of the church is to welcome the stranger," Sister Linda Yankowski told the Beaver County Times last month. "I know there are lots of political issues and other people have to figure that out."
https://www.foxnews.com/us/ny-church-backs-out-of-federal-plan-to-house-illegal-immigrant-children