Militant left-wing leader arrested for allegedly inciting violence at 2016 Sacramento melee
By Lucia Suarez Sang, ,
Published September 27, 2017
The prominent leader of a militant left-wing group was arrested earlier this week on charges stemming from a violent brawl last year between white nationalist groups and counter-protesters.
Yvette Felarca, 47, was taken into custody in Los Angeles on Tuesday on charges of inciting and participating in a riot, and assault likely to cause great bodily injury, the Sacramento County District Attorney's Office said Wednesday. The charges come after an eight-month investigation.
Felarca, whose name in public records appears as Yvonne Capistrano Felarca, has been identified as the leader and spokesperson for the anti-fascist group By Any Means Necessary.
She is among several people arrested this week in connection to the wild skirmish that broke out at the state Capitol in June 2016 when more than 300 counter-protesters confronted about 30 members of the Traditionalist Worker Party, which has been called a white nationalist group.
Felarca, who is a middle school teacher in Berkeley, attended the Capitol protest and gave television interviews after the melee. She was captured on video hitting a member of the TWP and calling a man a Nazi before punching him in the stomach repeatedly while shouting for him to "get the f*** off our streets."
WARNING: GRAPHIC LANGUAGE
The district attorney's office said many counter-protesters were masked, making it difficult to bring charges -- including in connection with numerous stabbings and an assault on a Sacramento television station's news crew. Fourteen people had stab wounds, cuts and bruises, with two of the injured surviving critical stab wounds.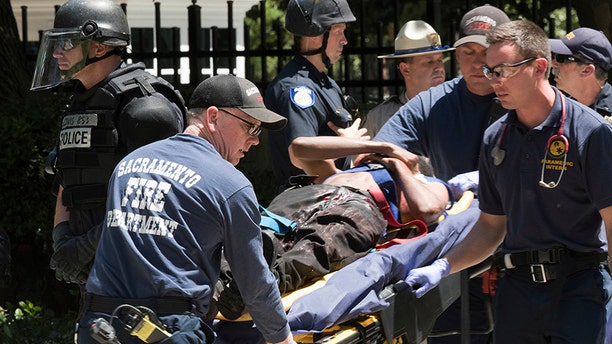 A day after the melee, someone sent an anonymous threat to Berkeley's Martin Luther King Jr. Middle School where Felarca was a teacher, Berkeleyside reported. In September 2016, Felarca was placed on administrative leave. She returned to her classroom six weeks later.
In addition to the June clash, Felarca has been prominent at several other events involving the Occupy movement, and more recently between supporters and opponents of President Trump and other conservative leaders.
She was also among the people who protested Milo Yiannopoulos' appearance at UC Berkeley earlier this year. During an appearance on Fox News after the protests, she said she was obligated to shut down his "racist, misogynistic and homophobic" messages.
Others charged in connection to the June 2016 rally include William Planer, who prosecutors say was supporting the TWP. He was arrested in Colorado and is awaiting extradition to California.
Porfirio Paz, a counter-protester was arrested in Southern California, while another counter-protester, Michael Williams was arrested in Yolo County.
The district attorney's office also rejected dozens of lesser charges including unlawful assembly and possessing illegal signs and banners.
"Our role is to investigate the incident and make recommendations to the district attorney's office," highway patrol spokeswoman Fran Clader said Wednesday. "Ultimately it's up to the district attorney's office to determine who should be arrested and face charges."
The Associated Press contributed to this report.
https://www.foxnews.com/us/militant-left-wing-leader-arrested-for-allegedly-inciting-violence-at-2016-sacramento-melee