Man suspected of crashing snowmobile into Iditarod mushers arrested
By ,
Published March 12, 2016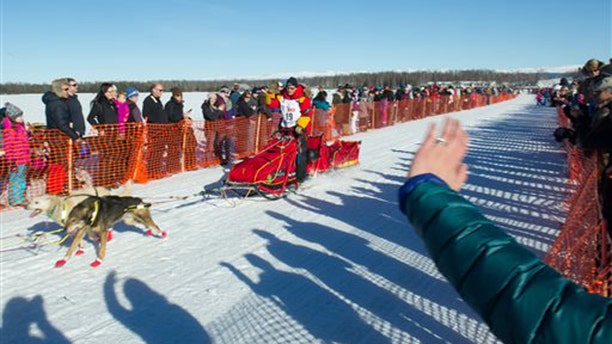 A man was arrested Saturday in connection with two incidents in which a snowmobile crashed into sled teams during Alaska's Iditarod sled dog race, killing one dog and injuring at least three others.
Alaska State Troopers say Arnold Demoski of Nulato is being held on two counts of assault, reckless endangerment, reckless driving and six counts of criminal mischief.
A message left for Demoski was not immediately returned. He told the Alaska Dispatch News that he had not intentionally driven into the dog teams of Aily Zirkle and Jeff King, but he had blacked out while returning from drinking in another village.
Race marshal Mark Nordman said Saturday that Zirkle, 46, who finished second three times from 2012-2014, was mushing from Kokukuk to Nulato, a run of less than 20 miles on the Yukon River, when she was hit.
The snowmobile hit the side of Zirkle's sled at 5 miles out of Koyukuk, turned around multiple times and came back at her before driving off, Alaska State Troopers spokeswoman Megan Peters said by email.
The snowmobile reappeared 12 miles out of Nulato. He revved up and was pointed at Zirkle before leaving, Peters said.
One dog on her team was bruised. Officials described the injury as non-life-threatening.
King, a four-time Iditarod champion, was behind Zirkle and fared worse.
When King reached the vicinity, he was struck from behind by the snowmobile and at least three of his dogs were hit.
Nash, a 3-year-old male, was killed. Crosby, another 3-year-old male, and Banjo, a 2-year-old male, received injuries and are expected to survive.
Race officials said King received medical attention in Nulato, but troopers quoted King as saying he was not injured. Troopers also said five of King's dogs were injured.
Zirkle left Nulato with 14 dogs at 6:16 a.m., after dropping one dog in the village. She was in third place.
The race leader is former champion Mitch Seavey, who reached Kaltag at 7:41 a.m.
Brent Sass was running second. He left Nulato at 3:43 a.m.
Reigning champ Dallas Seavey, the son of Mitch Seavey, was in fourth place. He left Nulato at 7:14 a.m.
The Associated Press contributed to this report.
https://www.foxnews.com/us/man-suspected-of-crashing-snowmobile-into-iditarod-mushers-arrested