Man goes on tirade and attacks New York City bus, causes $2,000 in damage, video shows
By Ryan Gaydos
Published December 07, 2018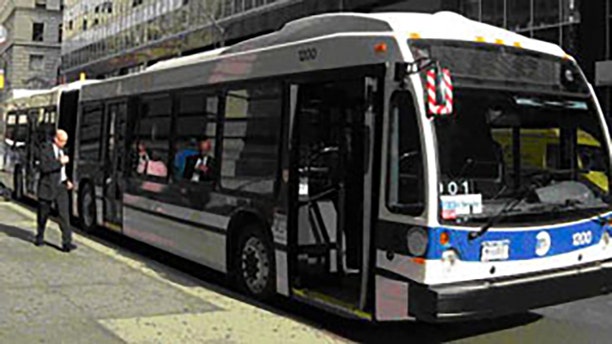 An irate man was caught on video Wednesday attacking a New York City public bus -- and the person operating the commuter vehicle responded by flashing an emergency signal across its message board.
The man was seen banging on the windshield and nearly broke off a rearview mirror during the bus beatdown. The bus was stopped at an intersection in New York City's Lower East Side when the attack occurred, according to the New York Post.
The would-be passenger was apparently angry at the bus driver for not opening the doors for him as he chased the vehicle for 20 blocks, NBC New York reported.
"Go ahead, run me over, just like you ran past every bus stop as I bang on your f----- door, you piece of s—-," the man screamed.
By the time he tired himself out, the man apparently caused $2,000 in damage, police told CBS New York.
No one on the bus was injured.
The MTA said the bus the man was attacking had cameras on it and the agency was working with police to identify the suspect.
https://www.foxnews.com/us/man-goes-on-tirade-attacking-new-york-city-bus-and-causing-2000-in-damage-video-shows