ICE says detained immigrant faces homicide charges in Mexico; wife disputes claim
By Amy Lieu, ,
Published August 21, 2018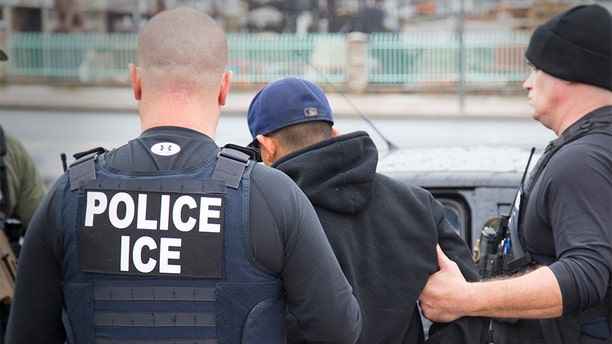 An undocumented immigrant from Mexico who was arrested in California this week while driving his pregnant wife to a hospital was facing a warrant for his arrest in Mexico on homicide charges, officials with U.S. Immigration and Customs Enforcement (ICE) said Saturday.
But his wife disputed the ICE claim, saying her husband has never been in trouble with the law, KCBS-TV of Los Angeles reported.
Maria del Carmen Venegas, 32, said she and her husband, Joel Arrona-Lara, 35, came to the U.S. 12 years ago from the city of Leon in the central Mexican state of Guanajuato. They do not have legal authorization to live in the U.S., she said.
She said that because her husband was taken away by ICE at a gas station where the couple stopped on the way to the hospital, she was forced to drive herself there, where she gave birth to a boy -- the couple's fifth child, all born in the U.S.
Venegas said she and Arrona-Lara had stopped for gas in San Bernardino, just east of Los Angeles.
Surveillance footage showed two vehicles immediately flank the couple's van after they pulled into the gas station. Agents with ICE questioned the couple and asked for identification, Venegas said.
Venegas said she provided hers but that Arrona-Lara had left his at home in their rush to the hospital.
The agents then handcuffed Arrona-Lara and took him away, leaving a sobbing Venegas alone at the gas station, surveillance footage showed.
"Mr. Arrona-Lara was brought to ICE's attention due to an outstanding warrant issued for his arrest in Mexico on homicide charges," ICE said in a statement. He was in custody Saturday pending removal proceedings, the report said.
On Saturday, Venegas said she and her children were hoping Arrona-Lara would be released soon.
"We need him now more than ever," she said from the hospital as her newborn son Damian cried in the background.
"My husband needs to be here," Venegas told KCBS-TV. "He had to wait for his son for so long, and someone just took him away."
ICE's statement said while the team prioritizes arresting immigrants who are transnational gang members, child sex offenders and those who've had previous convictions for violent crimes, it "will no longer exempt classes or categories of removable aliens from potential enforcement."
"All of those in violation of the immigration laws may be subject to immigration arrest, detention and, if found removable by final order, removal from the United States," the statement said.
Emilio Amaya Garcia, director of the San Bernardino Community Service Center, said his nonprofit group is providing legal help to Venegas and Arrona-Lara, will file a motion Monday for an immigration court to set a bail hearing for Arrona-Lara and will ask that his removal proceedings be canceled.
An attorney representing Arrona-Lara from the service center told KCBS-TV that the Mexican charges against him were unconfirmed.
Garcia told the station that he has been contact with the Mexican consulate, which said it had no information regarding ICE's claim.
Fox News' L.A. Ross and The Associated Press contributed to this report. 
https://www.foxnews.com/us/ice-says-detained-immigrant-faces-homicide-charges-in-mexico-wife-disputes-claim