Hugh Freeze resigns as Ole Miss football coach after caught calling escort service on work phone
By ,
Published September 27, 2017
University of Mississippi head football coach Hugh Freeze resigned Thursday night after reports that he had used his school-issued phone to call an escort service.
Freeze, who had coached Ole Miss for five years and led the program to a 2016 Sugar Bowl victory, was forced to leave after university officials discovered a "pattern of personal misconduct inconsistent to the standards we expect from the leader of our football team," Chancellor Jeff Vitter said, according to the Clarion-Ledger in Jackson.
Ole Miss athletic director Ross Bjork told the newspaper that the university would have enacted the "moral turpitude" termination clause in his contract if Freeze didn't resign.
The call was placed to a female escort service in January 2016 and reportedly lasted about one minute. At a news conference Thursday, Bjork said the number appeared to have been dialed only once from Freeze's phone, but upon further inspection of his call logs, university officials found what Bjork described as a "concerning pattern."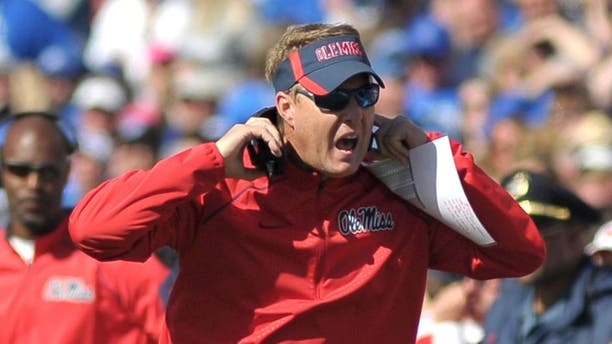 "We did a quick assessment and determined this was the only time that that particular number was ever called from coach Freeze's phone since he started working here at Ole Miss," Bjork said. "Because the call lasted less than one minute … we initially attributed this call to a (accidental dial of the) number."
The Rebels had a quick rise under Freeze, recruiting at a high level and reaching an apex with a Sugar Bowl victory over Oklahoma State following the 2015 season.
But an NCAA investigation -- alleging 21 charges of academic, booster, and recruiting misconduct -- has overshadowed much of that success, especially over the past year. The school has already self-imposed several penalties, including a one-year postseason ban for the upcoming season.
Freeze -- who was being paid more than $5 million per year -- had a 39-25 record over five seasons, including a 19-21 mark in the Southeastern Conference.
The 47-year-old Freeze's shocking exit -- just a few weeks before preseason camp begins -- completes a stunning fall for a coach once considered one of the profession's rising stars.
Freeze took over after Houston Nutt was fired during a miserable 2011 season that ended with a 2-10 record. Ole Miss immediately improved under Freeze, finishing 7-6 in 2012 and winning the Birmingham Bowl.
The Rebels continued to surge on the field and in recruiting over the next several seasons. They signed some of the nation's top recruits in 2013, including defensive lineman Robert Nkemdiche, receiver Laquon Treadwell and offensive lineman Laremy Tunsil. They helped push the program to eight wins in 2013, nine in `14 and a 10-3 record in `15.
But Ole Miss' newfound ability to recruit at a high level drew the attention of the NCAA, which was already investigating the school for a handful of violations that occurred during Nutt's tenure.
The school has received two Notice of Allegations letters from the NCAA over the past two years. The first alleged 13 rules violations, including nine that were classified as Level I, which the governing body deems the most serious.
Though the NCAA didn't appear to find much from that particular exchange, the governing body reopened its investigation, sending a second NOA earlier this year that expanded the case to 21 allegations, including 17 that are Level I.
Freeze, a north Mississippi native, had an unlikely rise to major college coaching, spending about a decade as a successful high school coach in Memphis before landing a job at Ole Miss in the mid-2000s under Ed Orgeron. After Orgeron was fired in 2007, Freeze became the head coach at Lambuth, a tiny NAIA school in western Tennessee.
The Associated Press contributed reporting to this story.
https://www.foxnews.com/us/hugh-freeze-resigns-as-ole-miss-football-coach-after-caught-calling-escort-service-on-work-phone