Georgia manhunt: Reward for escaped inmates increased as family makes desperate plea
By ,
Published July 05, 2017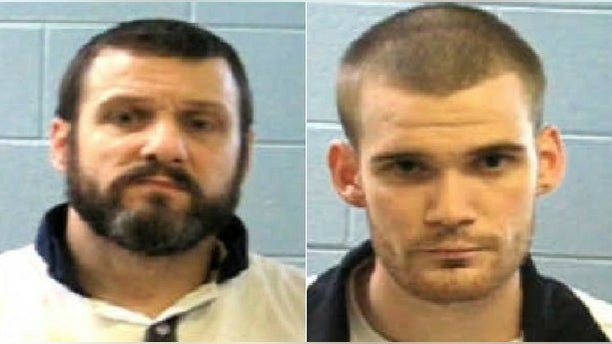 The search for the two Georgia inmates accused of killing two correctional officers on a prison bus Tuesday before escaping has entered its third day, as the family of one suspect begged him to surrender or face getting killed.
Ricky Dubose, 24, and Donnie Russell Rowe, 43, inmates at the Baldwin State Prison in Milledgeville, overpowered and killed Sgt. Christopher Monica, 42, and Sgt. Curtis Billue, 58, on a bus that was carrying up to 33 inmates between prisons, according to investigators. The duo carjacked a driver who pulled up behind the bus and sped off in his green Honda Civic down state Highway 16 in Putnam County, southeast of Atlanta.
The reward for information leading to their arrest has been increased to $130,000.
Dubose's family has pleaded for the inmate to turn himself in.
"He needs to stop (running)," Rocky Dubose, Ricky's father, told WSB. "Ricky please stop man. Brother, they gonna kill you, if you don't give yourself up. I promise you."
SECURITY FAILURE LEFT NEARLY 7 MILLION GEORGIA VOTER RECORDS EXPOSED, RESEARCHER FINDS
A surveillance video of the shooting on the bus was recovered but it was not clear which inmate fired the fatal shots, Putnam County Sheriff Howard Sills said.
Signs of the fugitives turned up hours later and 25 miles north, in Madison, where they ransacked a house, ditched their prison uniforms, and took food and likely clothes too. They stole a white Ford pickup truck from a nearby industrial site sometime between 10 p.m. to 11 p.m. on Tuesday, Sills said.
The Honda was found Wednesday, intentionally concealed in a wooded area near the burglarized house, Sills said. The Oconee County Georgia Sheriff's Office tweeted out the information of the stolen white Ford F250 pickup truck with a Georgia tag that reads: BCX 5372.
Sills called the escaped inmates violent repeat offenders and extremely dangerous, having taken the guards' 9 mm pistols.
Since the car was found, the trail has gone cold. The FBI held a joint news conference on Thursday with state and local law enforcement officials in Madison.
Sills said the investigation is expanding and they are asking for the public's help. Sills' message to the escaped inmates was: "You need to surrender. You will be apprehended."
David LeValley, agent in charge of the FBI's Atlanta office said they will be putting up billboards in various states with information regarding the suspects and who to contact if they are seen.
FLOYD MAYWEATHER ANNOUNCES AUGUST FIGHT AGAINST CONOR MCGREGOR
Dubose has tattoos on his body that are related to the Ghost Face Gangsters, a white supremacy gang, Sills said. Rowe has been serving life without parole since 2002, and Dubose began a 20-year sentence in 2015. The duo have been cellmates more than once in Georgia's prisons and have known each other for "quite a while" and may have planned the escape, Department of Corrections Assistant Commissioner Ricky Myrick said.
Monica and Billue were both transfer sergeants at the prison. Monica had been with the Georgia Department of Corrections since 2009 and Billue since July 2007.
Fox News' Terace Garnier and The Associated Press contributed to this report.
https://www.foxnews.com/us/georgia-manhunt-reward-for-escaped-inmates-increased-as-family-makes-desperate-plea