Fugitive who ran from traffic stop is caught showing signs of hypothermia
By , Fox 12 Oregon
Published December 14, 2016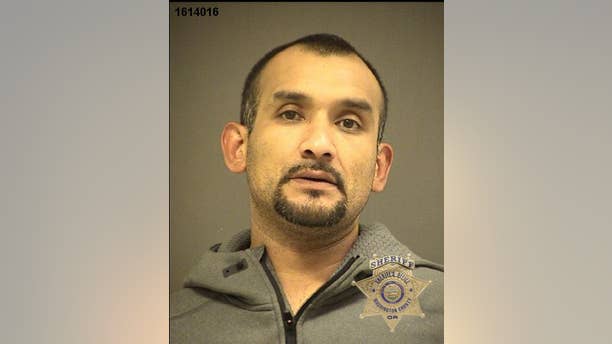 A man that ran from a vehicle during a traffic stop by deputies with the Washington County, Ore., Sheriff's Office had to be rescued by the deputies after he tried hiding in thick brush after wading through a creek.
NOTORIOUS 86-YEAR-OLD JEWEL THIEF STRIKES AGAIN, POLICE SAY
Deputies had stopped a car near the Reserve Golf Course at 9:43 a.m. Tuesday when the passenger ran from the vehicle, heading on to the golf course property.
The man, Julian Villalobos-Chavez, then ran through a chest-deep creek on the course, and deputies followed along the creek bank until they found Villalobos-Chavez hiding in brush on the other side of the water.
Villalobos- Chavez began to experience symptoms of hypothermia due to his time in the water and the cold temperatures. Rescue units from Tualatin Valley Fire and Rescue assisted the deputies with rescue the man from the brush.
While attempting to rescue Villalobos- Chavez, deputies determined he was wanted on multiple felony warrants.
https://www.foxnews.com/us/fugitive-who-ran-from-traffic-stop-is-caught-showing-signs-of-hypothermia