Flood of lawsuits to follow wave of illegal immigrants?
By ,
Published December 01, 2015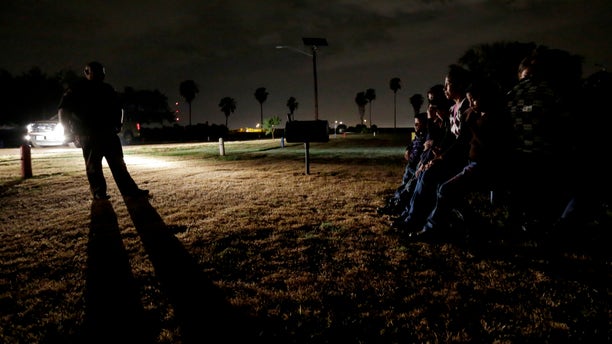 Illegal immigrants pouring across the border could trigger a wave of lawsuits flooding the U.S. court system for years and costing taxpayers millions, according to legal experts.
The American Civil Liberties Union has already sued the federal government to ensure that each of the 60,000-plus unaccompanied children who have come across the border since November gets taxpayer-funded representation at deportation hearings. But legal advocacy groups who represent illegal immigrants could file additional suits alleging improper treatment at the hands of the government. And with the system overwhelmed, there's little doubt corners are being cut.
"You can bet there is a phalanx of left-wing lawyers trying to line up illegal alien plaintiffs," said Tom Fitton, president of Judicial Watch.
[pullquote]
Slow asylum hearing dockets — like those that have already prompted a class action suit on behalf of 40,000 illegal immigrants — are certain to get much worse, experts say. But every interaction between the government and the illegal immigrants pouring in could potentially trigger a cause of action if lawyers can prove the letter of the law was not followed.
Jessica Vaughn, director of policy studies at the Center for Immigration Studies, said there's little the White House can do now that the children — most of whom are from Central America —are already here. Under U.S. law, kids from non-contiguous countries cannot be turned back at the border and must be granted deportation hearings.
"If we start sending these kids back to their home countries, there will be lawsuits galore," said Vaughn. "We're already seeing suits for conditions and denial of privileges. The sky's the limit, it could be a nightmare."
President Obama has asked Congress for $3.7 billion to deal with the border crisis, money that would include tending to the care and legal needs of the illegal aliens. But the courts are already clogged with suits like one from a woman who claims the Border Patrol kept her in a car for eight hours without feeding her and another filed in March by Americans for Immigrant Justice claiming illegal immigrants in the Texas Rio Grande Valley facility were held in brightly lit, cold, cot-less cells.
And earlier this month the Fifth Circuit Court of Appeals in New Orleans ruled that a Mexican teenager killed on Mexican soil by a Border Patrol agent who claims he was being pelted with rocks had rights under the U.S. constitution. His family is suing for $325 million.
Vaughn said the administration makes it easy to sue the federal government, both with policies that critics say have invited the influx, and half-hearted efforts in court.
"This administration is empowering these groups by not lifting a finger to defend itself," Vaughn said. "ICE often times doesn't bother to send a prosecutor to appear in court. This creates a climate which makes people think they can get away with anything."
Illegal immigrant advocacy groups hailed the ACLU suit filed Wednesday in San Antonio on behalf of eight illegal immigrants ranging in age from 10-17. Immigration courts do not have to provide legal representation for adult illegal immigrants who are fighting deportation, but the ACLU suit said that the children it is representing must get legal help. And they have not been able to find lawyers, partly because the nation's immigration courts are backlogged by 367,000 pending cases of children and adults, according to the suit.
A ruling that the government must provide representation could prove expensive to taxpayers, but no one expects illegal immigrant children to represent themselves. And the Obama administration has already signaled it is open to the idea of providing legal help where needed.
"We welcome this suit with open arms," says Cheryl Little executive director of Americans for Immigrant Justice.  "The money the president has requested is not enough. We've been overwhelmed and at crisis level for two years. Free legal assistance for children regardless of their status can mean life or death."
Under the president's proposed money request the Department of Justice would be given $15 million to hire attorneys to defend unaccompanied minors against deportation in removal proceedings before an immigration judge. An additional $1.1 million would be allocated for "immigration litigation attorneys" who, presumably, would assist adult illegal immigrants in their proceedings.
"The president is asking U.S. taxpayer to spend millions to help illegal immigrants who knowingly broke our laws to avoid deportation," says Vaughn. "The federal government is undercutting its entire mission. No one is defending our law."
Vaughn says the law requires legal counsel and hearings for unaccompanied minors but questioned why children released into parental custody are being treated as unaccompanied under the law. According to Vaughn almost half of the children in the current border crossing surge have been released to relatives living in the U.S. 
However, Little said she's concerned there is a move underway to send children back to their home countries too soon by using video conferencing to expediting hearings which according to Little would "violate these children's right to their full and fair process."
The ACLU is looking for other causes of action amid the border crisis, too.
"There was only one open bathroom and no activities for children who were stuffed into small cells," said ACLU of Texas senior staff attorney Adriana Pinon. "We're monitoring the situation. There's always the possibility of a lawsuit. "
Meanwhile, conditions for agents working in border facilities remains challenging.
"Agents in the El Paso and Laredo sectors are getting sick," said Shawn Moran vice president of the National Border Patrol Council. "We're working in close proximity doing medical screening on people and seeing cases of H1N1 swine flu, chicken pox, measles, lice and tuberculosis.  People who are supposed to be cleared are being released into the community.  Given the dormant period of some of these diseases there is a concern. "
Moran doubts there's much legal recourse for agents who get injured or sick as a result of the border crisis. And taxpayers won't have much recourse, either, Vaughn predicted.
"The average taxpayer does not have the means," Vaughn siad. "There's more financial aid available to illegal immigrants than there is for the average taxpayer."
https://www.foxnews.com/us/flood-of-lawsuits-to-follow-wave-of-illegal-immigrants