Dying Vietnam veteran reunited with lost dog
By ,
Published November 30, 2015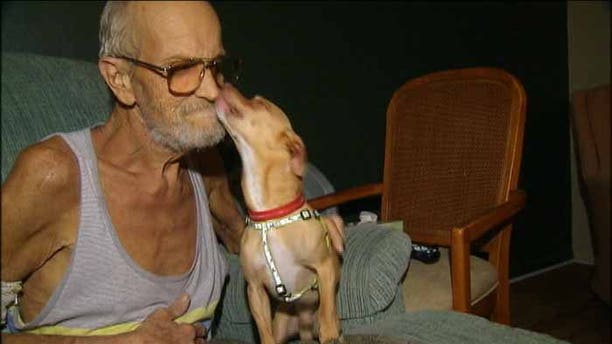 A dying Vietnam veteran who doctors say has only days to live was granted his last wish by a stranger who was able to reunite him with his beloved lost dog, Mr. Cutie.
John Simpson, the veteran, was moved to hospice and could not bring Mr. Cutie. Last Sunday, Mr. Cutie escaped his new owner's home by digging a hole under a backyard fence. It was one day after he visited Simpson in the hospice.
"Saturday was the first time I took the dog here to hospice. The next day, he got out," Ann Marie Gemmel, the neighbor who has been checking on the dog, told MyFoxTampaBay.com. "I really think he was looking for John," she said.
[pullquote]
Simpson was diagnosed with pancreatic cancer in 2012. He described Mr. Cutie as his "spark of life," and said the dog is what he was living for.
"When you're growing up you're asked, 'If you could have one wish, what would you wish for?' Back in those days, I used to say, 'As many wishes as I could wish for.' Now my only wish would be for my dog to come home,'" he told MyFoxTampaBay.com.
His wish was granted Friday when Missy Figueroa connected Mr. Cutie with Simpson by posting pictures of the dog she had found on FidoFinder. The dog had been found running around the area near where he escaped with a red collar but had no identification tags.
It wasn't confirmed that the dog found was Mr. Cutie until the moment of the reunion.
"Seeing this person that I don't even know, you know, so excited to see his dog, it just makes me happy that I actually got to be here for that and just make him happy," Figueroa told MyFoxTampaBay.com.
Simpson said that he had been praying to St. Jude everyday for the return of his dog.
"I'm about to cry," he said during the reunion.
Click for more from MyFoxTampaBay.com.
https://www.foxnews.com/us/dying-vietnam-veteran-reunited-with-lost-dog