Confederate flag protests, fights prompt more SC Statehouse security
By ,
Published May 03, 2016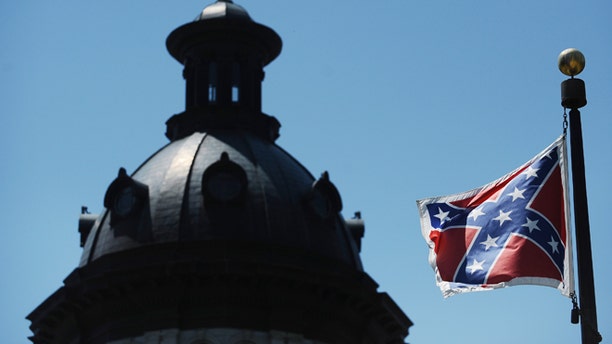 Security has been increased at the South Carolina Statehouse, where a Confederate flag has been the focus of protests since nine people were killed at a historic black church in Charleston two weeks ago, officials said Tuesday.
The Bureau of Protective Services, whose officers are assigned to security patrols at the downtown complex, has sent more officers there in recent weeks, said Public Safety Department spokeswoman Sherri Iacobelli.
Iacobelli declined to give specifics on how many extra officers were sent to the complex or the total number of security personnel at the Statehouse in general. Jennifer Timmons, a spokeswoman for the Columbia Police Department, said that agency regularly patrols the Statehouse area and can quickly respond if help is needed.
Such a collaboration happened Monday night, when one man was arrested after a fight broke out over the flag that flies near a monument honoring Confederate soldiers. At around 7:15 p.m., about a dozen vehicles with Confederate flag supporters pulled up in front of the Statehouse and stopped in the middle of the street.
About 10 of the flag supporters clashed with about 30 people who were on the Statehouse grounds protesting the flag, the statement said. About 50 officers contained the clash, including officers from the Bureau of Protective Services assigned to the Statehouse, as well as Columbia police, University of South Carolina officers and the South Carolina Highway Patrol.
Nicholas Thompson, 25, of Irmo, South Carolina, has been charged with disorderly conduct. Online court records showed that Thompson posted bond late Monday and listed no attorney for him. His next court date is July 27.
Several groups have planned protests at the site, and impromptu flag-related demonstrations have developed in the last several weeks. The suspect in the Charleston shooting, Dylann Storm Roof, appears in a number of photographs online with the Confederate flag, prompting calls for removal of the flag from in front of the Statehouse.
"We want people feel safe to come down to the Statehouse, and we're just asking for people to maintain order and to demonstrate peacefully and respectfully during this time," Iacobelli said.
Just after dawn Saturday, a North Carolina woman scaled the more than 30-foot steel flagpole and, despite commands from Bureau of Protective Services officers to get down, removed the flag. She and a man who also had climbed over a wrought-iron fence to get to the flag were arrested, and the flag was raised again.
South Carolina lawmakers are expected next week to consider proposals to take the flag down and move it to a museum. The flag has flown at the Statehouse since the 1960s. It was removed from the Statehouse dome and placed at a Confederate Soldier Monument in front of the Statehouse in 2000.
https://www.foxnews.com/us/confederate-flag-protests-fights-prompt-more-sc-statehouse-security