CEO, son believed killed in California plane crash
By ,
Published November 30, 2015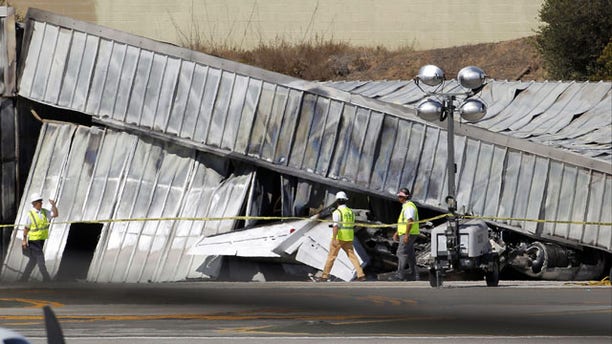 The CEO of a California construction company and his son were believed to have been killed Sunday night when their plane ran off the runway and crashed into a hangar at Santa Monica Municipal Airport.
A statement by Morely Builders Vice President Charles Mutillo posted Monday on the company's website said "While we do not have specific facts, we believe that our President and CEO, Mark Benjamin, and his son, Luke Benjamin, a Senior Project Engineer with us were on board." The company has its main corporate office and Santa Monica, with satellite offices in San Diego and Irvine.
Officials with the National Transportation Safety Board have been unable to access the wreckage to confirm any fatalities due to the fact that the hangar was destroyed in the fire started by the crash. However, Santa Monica Fire Department Capt. John Nevandro deemed the wreck to be "unsurvivable" late Sunday night.
The plane that crashed was a twin-engine Cessna Citation designed to hold eight passengers and two crew members. It had taken off from Hailey, Idaho and had landed in Santa Monica when it went off the right side of the runway at about 6:20 p.m. on Sunday and struck the hangar, Federal Aviation Administration spokesman Ian Gregor said. The airport in Hailey, Idaho serves the Sun Valley resort area, a popular destination among Los Angeles-based celebrities and the wealthy.
The jet, a Cessna 525A manufactured in 2003, was registered to a Malibu, Calif., address and its corporate owner, Creative Real Estate Exchange, is based in Birmingham, Ala., and Atlanta, according to FAA public records. The plane had no record of accidents or incidents, the FAA said.
According to the website flightaware.com, the plane made 12 flights in September, mostly within Idaho and between Idaho and Southern California.
The Associated Press contributed to this report
Click for more from MyFoxLA.com
https://www.foxnews.com/us/ceo-son-believed-killed-in-california-plane-crash