California Woman Loses Mom and Daughter in Nevada Train Crash
By ,
Published November 28, 2015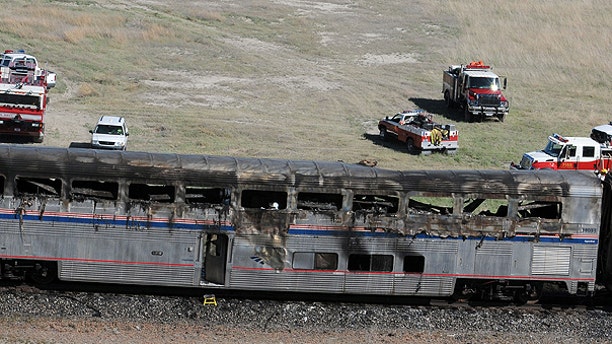 A grieving California woman said she lost her mother and teenage daughter in the Amtrak train crash last week in Nevada that claimed at least six lives and injured dozens.
"I don't know if they went peacefully, without pain," a sobbing Nicole Cruz told FOX-40 in Sacramento. "You know, what they were thinking."
Cruz learned about their deaths from watching the news because she apparently has no contact information.
"I looked up at the TV, and I just saw their names," she told the station. "And I knew."
Frances and Karly Knox were among the six killed in Nevada last week.
An Amtrak train attendant filed the first lawsuit Wednesday, one of about 20 people injured in the crash east of Reno on Friday. Her lawsuit alleges negligence on the part of truck driver Lawrence Valli, 43, and his employer, John Davis Trucking Co., saying that he ignored railroad crossing gates and warning signals.
Cruz said the memories of her mother will help her survive the difficult days, and she said she's grateful that her 17-year-old niece survived the wreck.
"I just miss her. She's my mom and nobody can ever replace my mom. I can even smell her right now... she always smelled sweet, like gardenias," she said with tears.
https://www.foxnews.com/us/california-woman-loses-mom-and-daughter-in-nevada-train-crash