California man allegedly assaults special-needs man for 'not moving quickly enough' on fast food line
By Paulina Dedaj
Published October 18, 2018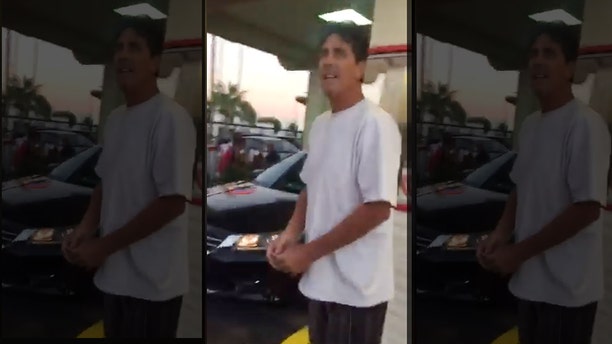 Police in California are looking for a man who allegedly assaulted a special-needs man for "not moving quickly enough" after placing an order at an In-N-Out restaurant last month.
Westminster Police released cellphone footage taken by the alleged victim.
According to a statement obtained by FOX 11, police responded to reports of an assault at 7 p.m. at the Westminster Boulevard location.
WARNING: GRAPHIC CONTENT 
"The victim, a special-needs man, was punched several times because he was not moving quickly enough after placing his order,'' the statement said.
The suspect is seen in the video pacing around while being asked by the victim, "Why did you call me retarded?" several times. "You hit me!"
Several people can be seen trying to defuse the situation.
At one point the suspect appears to knock the phone out of the man's hand.
After questioning the man several more times, the suspect appears to reply, "Because you are a f------ retard."
The suspect is a white male in his 40s, roughly 6 feet tall with brown hair, FOX 11 reported. He was last seen wearing a white T-shirt, dark-colored shorts and black shoes.
Anyone with information is asked to contact Cmdr. Cameron Knauerhaze with Westminster Police Department at (714) 548-3791
https://www.foxnews.com/us/california-man-allegedly-assaults-special-needs-man-for-not-moving-quickly-enough-on-fast-food-line