Bystanders form human chain to help driver out of overturned car on Florida highway
By ,
Published October 17, 2016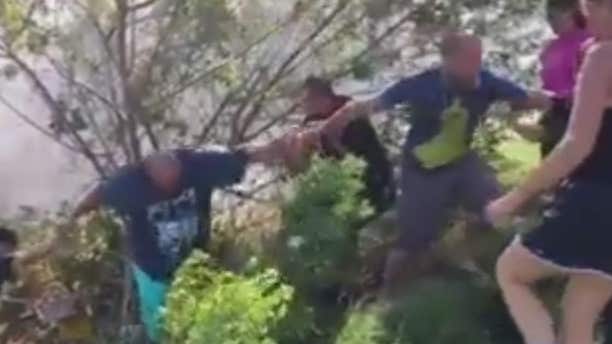 Authorities in Florida responded to a report of a fiery crash on a highway Sunday and when they arrived they saw nearly a dozen people frantically trying to rescue a driver who went over an embankment.
According to Fox 35 Orlando, the driver became combative during the rescue in Palm Bay on the Dixie Highway. Authorities said an SUV plunged into a ditch off the highway at around 11 a.m.
Police had to restrain the driver while trying to pull him back onto the road and away from the blaze. A group of bystanders formed a human chain to help get the man out of the ditch and into safety.
Tom Sais told WESH-TV that he went down to help the man after the crash, but the driver was telling people to leave him alone while he was trapped in his overturned vehicle and trapped by the seatbelt.
The driver was taken to Holmes Regional Medical Center for treatment. His condition was unknown.
Authorities said a few police officers and bystanders suffered minor bumps and bruises.
Click for more from Fox 35 Orlando.
https://www.foxnews.com/us/bystanders-form-human-chain-to-help-driver-out-of-overturned-car-on-florida-highway