Bellagio Las Vegas casino robbed at gunpoint as gamblers watch
By Nicole Darrah, ,
Published November 28, 2017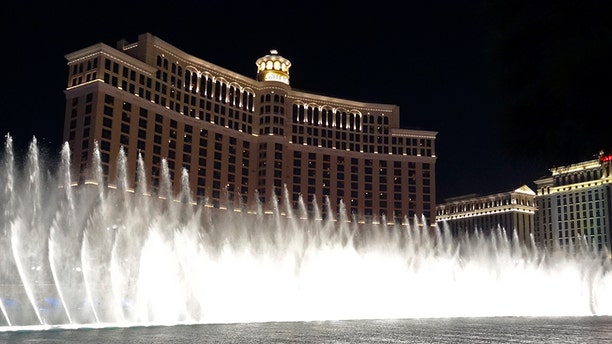 Law enforcement officials in Las Vegas are investigating a reported robbery at the Bellagio Hotel & Casino on the Las Vegas Strip — which caught the eye of actor James Woods, who was gambling at the time.
The robbery unfolded near the poker cage of the casino area just before 3:50 p.m. local time on Tuesday, the Las Vegas Metropolitan Police Department said.
The suspect approached the poker cage and demanded an unspecified amount of money.
The robbery was captured on surveillance photos, Las Vegas Metro Police Captain John Pelletier said.
"Those who commit crimes like this on the Strip will be hunted down and whatever amount of cash he got is not enough to face a lifetime in prison," Pelletier said, according to the Las Vegas Sun.
Pelletier said that investigators are "comfortable and confident" they'll find the suspect, who is believed to be a white man who was armed with a handgun and wearing a mask. Police said he was also wearing a wig and glasses, and escaped in a silver Chevrolet Cruze with Nevada license plates.
The police captain added that someone may have been brought into the casino with the suspect, but didn't play a role in the robbery and is cooperating with authorities.
Woods tweeted that he was playing poker at the casino when "a guy walks up with a gun and robs the cage thirty feet from us."
He added that the staff of the Bellagio "were fantastic. They surrendered the money quietly, so no customers would get hurt. Nobody even realized it was happening. Excellent staff, cool under pressure."
The Bellagio was the site of one of the most famous fictional heists in movie history, as seen in the 2001 film "Ocean's Eleven." The crew played by a big-name cast — including George Clooney, Brad Pitt and Matt Damon — aimed to rob the Bellagio, the Mirage and the MGM Grand.
Fox News' Andrew Craft contributed to this report.
https://www.foxnews.com/us/bellagio-las-vegas-casino-robbed-at-gunpoint-as-gamblers-watch