Amtrak Train Hits Truck in Calif.; 20 Injured
By ,
Published November 21, 2015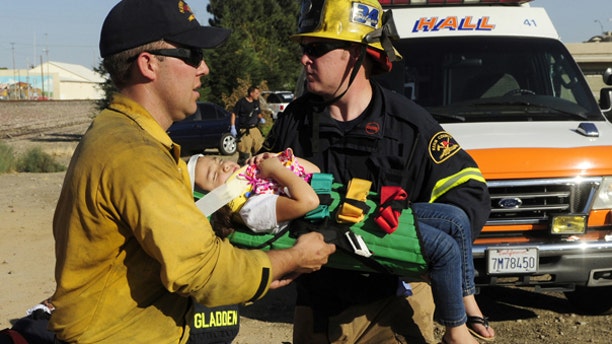 SHAFTER, Calif. -- Police say an Amtrak train hit a big-rig truck at a California crossing, sending 20 people to hospitals for treatment for minor injuries.
Shafter police Sgt. Randy Milligan says the southbound Amtrak train hit the truck in Kern County at around 3:55 p.m. Friday.
Police say the truckdriver, 49-year-old Luis Camagro of McFarland, Calif., walked away from the crash unhurt.
Amtrak officials said the train was traveling from Oakland to Bakersfield with 219 passengers on board. Officials say it was going about 79 mph when it hit the truck.
The remaining passengers were transported by bus to the Bakersfield Amtrak station.
Police say the signals and caution arms at the crossing were working properly at the time of the crash.
https://www.foxnews.com/us/amtrak-train-hits-truck-in-calif-20-injured