Ammon Bundy: Oregon protesters want to prevent war with the government
By ,
Published January 11, 2016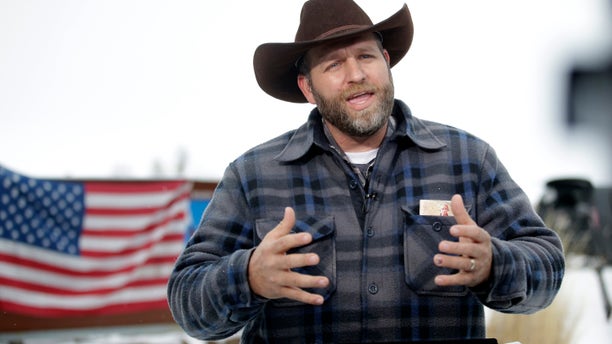 Ammon Bundy said Monday he and his fellow armed protesters were occupying a remote Oregon wildlife refuge in part to prevent a war between the government and the people.
During one of the near-daily press conferences Bundy has given throughout the nine-day affair, the Arizona rancher said he worried about the consequences if things didn't change between federal officials and the citizens they serve.
"It will ultimately create a war among the people," Bundy said. "And this is an effort, a peaceful effort, to make sure that war never comes. To ensure there is not a war between the government and the people. And if we do this correctly now, we can make sure that peace will reign in this country."
Bundy also gave his most detailed description yet of the evidence he said his group has amassed in an effort to overturn the conviction of two ranchers, a father and son who were sentenced to five years in prison for burning federal land.
Steven and Dwight Hammond were convicted of "maliciously" destroying U.S. property for a 2001 fire and also for setting an August 2006 "back burn" in response to a supposed lightning strike. A back burn is a fire set in an effort to stop the progress of an approaching fire.
But Bundy said he's obtained video evidence and the testimony of two witnesses that allegedly show employees from the Bureau of Land Management setting the fire that prompted the back burn. Bundy also said the prosecuting attorney in the Hammond case did not turn over those pieces of evidence to the defense. He claimed to have proof the Hammonds had been discriminated against, too.
"We do expect that they will be released," Bundy said.
But as Bundy ended his short time in front of the microphones to get back to work on the outpost – his crew was planning to take down a refuge fence and replace it with a gate – New Mexico Wildlife Federation Executive Director Garrett VeneKlasen stepped in front of the cameras and railed against Bundy and his fellow ranchers.
"Let's not candy-coat this thing," VeneKlasen said. "They are terrorists. They are domestic terrorists."
Calling the activists "bullies" and "a lunatic fringe of radical extremists," VeneKlasen claimed the Bundy-led group was being used by the wealthy in order to take resources from government land.
"I came here from New Mexico to tell these people to get the hell off my land," he said.
It was a striking visual of how polarizing the ranchers' occupation has become. On one side are passionate detractors calling for an immediate end to the operation. On the other are fervent and sincere supporters.
One of those supporters, a retired colonel, presented Bundy with his own bronze star, according to LaVoy Finicum, another rancher at the standoff.
"This goes way beyond agriculture," Bundy said.
https://www.foxnews.com/us/ammon-bundy-oregon-protesters-want-to-prevent-war-with-the-government