Alaskan city buried under record snowfall
By ,
Published March 30, 2017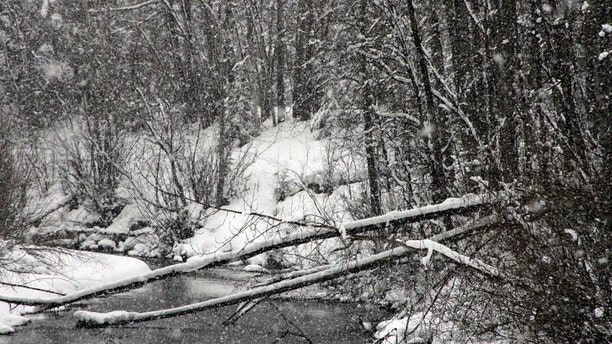 It was a late March surprise for residents of Alaska's largest city, the kind that snarls traffic and keeps kids at home for the day.
The National Weather Service said 8.8 inches (22.4 centimeters) of snow fell on Anchorage between 10 p.m. Tuesday and 1:30 p.m. Wednesday.
MYSTERIOUS CARVING FOUND AT RHODE ISLAND CHURCH WHERE JFK WAS MARRIED
That's a record for March 29 in Anchorage, said meteorologist Rebecca Duell.
The Anchorage School District canceled classes for the day, and the deep snow slowed traffic.
One enterprising person on a bicycle with fat tires was caught by a camera from Anchorage television station KTVA. The cyclist was slowly trudging along a bike path adjacent to a long line of cars waiting to move off a highway exit ramp.
The snowfall wasn't unusual for Anchorage, or for the time of year, Duell said.
The latest snowfall on record of at least one-tenth of an inch is May 22, which occurred in 1964.
Since 1952, the average final snowfall in Anchorage occurs on April 18.
The previous high snowfall for March 29 was 3.4 inches (8.6 centimeters) set in 2001.
https://www.foxnews.com/us/alaskan-city-buried-under-record-snowfall