4 killed, dozens injured after train hits charter bus in Mississippi
By Travis Fedschun, ,
Published March 07, 2017
Four people were killed and dozens injured after a train hit a charter bus Tuesday in Biloxi, Mississippi, officials said.
Biloxi Police Chief John Miller described the crash as a "terrible, chaotic scene" at a press conference, adding that 35 people have been hospitalized.
A total of 46 passengers were on the bus when the crash happened, according to Miller.
Officials initially said four people died in the crash and then revised it down to three, but Vincent Creel, a spokesman for the city of Biloxi, told the Associated Press after consulting with the coroner's office that they can confirm that four were killed in the incident.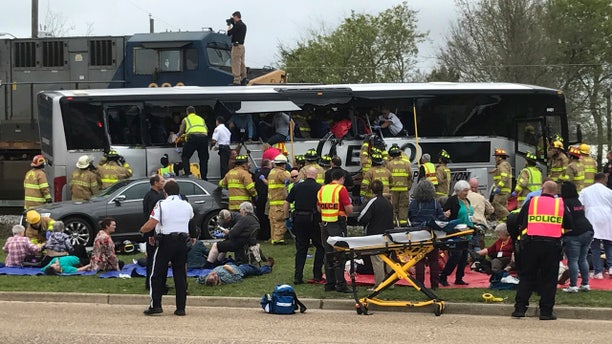 The CSX freight train was traveling east when it collided with the charter bus that was heading north around 2:15 p.m. local time and pushed it nearly 300 feet down the tracks, according to Miller.
"I just want everyone to know that we're doing everything we can do to help everyone on that bus," Miller said.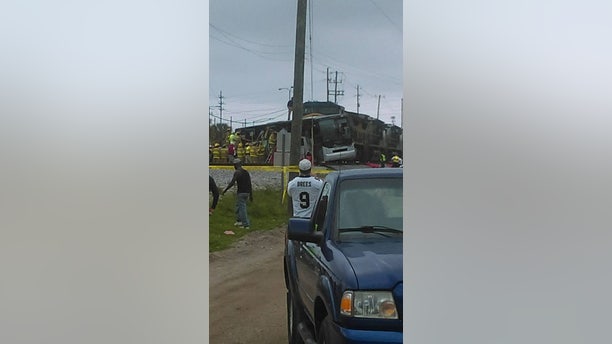 Biloxi Mayor Andrew "FoFo" Gilich called it a "tragic day" for the city, and asked for thoughts and prayers for those affected.
Emergency crews were spotted still removing people from the bus through the emergency windows 30 minutes after the initial crash, WLOX-TV reported. A witness reported most of the passengers on the bus were senior citizens.
Miller said the bus, operated by Echo Transportation, was out of Austin, Texas.
Ameet Patel, Senior Vice President of Regional Operations for Penn National Gaming, owner of Hollywood Gulf Coast Casino and Boomtown Biloxi Casino, said in a statement to WLOX-TV the bus was traveling from Hollywood in Bay St. Louis to Boomtown in Biloxi.
"It is with deep regret and sympathy that we can confirm the private charter bus that collided with a train this afternoon in Biloxi was transporting patrons from our Hollywood Gulf Coast Casino in Bay St. Louis to our Boomtown Biloxi Casino approximately 45 miles away," the statement said. "Our thoughts and prayers are with the families of those who tragically lost their lives and all those affected by this accident.  As this is an ongoing law enforcement matter, we are withholding any further comment and are referring all calls to the Biloxi Police Department, with whom we are cooperating fully on their investigation."
The single track area where the crash took place is the CSX mainline along the Gulf Coast, passing through densely populated areas of southern Mississippi.
CSX officials told WLOX-TV all train traffic through the area has been stopped as a result of the crash.
"CSX personnel are working with first responders at a collision of a freight train and passenger bus in Biloxi, Miss," CSX spokesman Gary Sease said in a statement to WLOX-TV. "The collision this afternoon occurred at the Main Street crossing. The eastbound mixed freight train, traveling from New Orleans to Mobile, Ala., had three locomotives and 52 cars – 27 loaded cars and 25 empty cars. The crossing has flashing lights and crossing gates. Authorities in Biloxi report three fatalities and many injuries, and our thoughts are with all involved. The train crew was not injured."
The train crossing that was the site of the crash has seen previous trouble, according to WLOX. Two months ago, a separate CSX train slammed a Pepsi delivery truck that got stuck on the tracks. There is a low clearance sign located near the intersection to warn drivers.
The Associated Press contributed to this report.
https://www.foxnews.com/us/4-killed-dozens-injured-after-train-hits-charter-bus-in-mississippi