As Delta unveils nation's 1st biometric terminal, some love its convenience, others raise privacy concerns
By Emilie Ikeda
Published November 30, 2018
Are you traveling through the world's busiest airport this holiday season? Say, "cheese!"
Security at Hartsfield-Jackson Atlanta International Airport is getting a facelift, as Delta rolls out the first fully biometric terminal in the country.
In Terminal F, which is used for international flights, passengers have the option to use facial recognition to carry them from curb to gate – almost entirely eliminating the need to show a passport or boarding pass.
"Today, as you travel and check a bag internationally, you're going to show your passport four times," said Gil West, chief operating officer at Delta. But with facial recognition officially being launched on Dec. 1, Delta is eliminating the need for passengers to rummage through their bags for a passport or crumpled boarding pass up to four times.
"Now, it'll be frictionless," West said.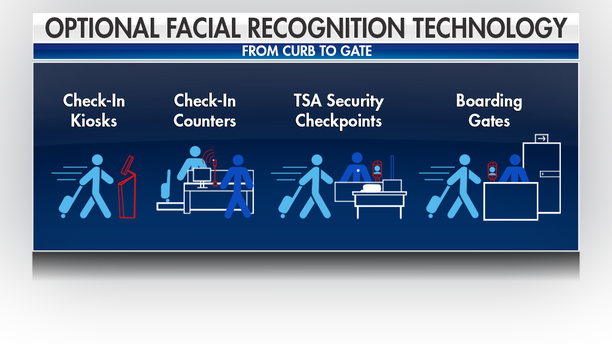 How does it work?
In order to use the technology, the passenger must be flying direct to an international destination, taking off from Terminal F on Delta, Aeromexico, Air France, KLM or Virgin Atlantic Airways.
Step 1.  Enter passport information during check-in (this can be done online ahead of time or at a kiosk at the airport).
Step 2.  Click "Look" on the screen at the kiosk in the lobby.
Step 3.  Simply approach and look into the camera at the baggage counter, TSA checkpoint or gate desk. It is important to note that passengers must specifically state they do not want to use the facial recognition technology at these three points.
Passengers may still have to show boarding passes at TSA through January 2019, according to a TSA spokesperson, and while travelers do not have to hand over their passport at the gate, they are still asked to have it readily available.
Facial recognition stations are also available for returning international travelers. U.S. Customs and Border Protection requires foreign nationals to have their picture taken, but not Americans.
The technology was heralded earlier this year at Dulles International Airport – where it is operating on a smaller scale – after nabbing a man who attempted to enter the U.S. using false identification.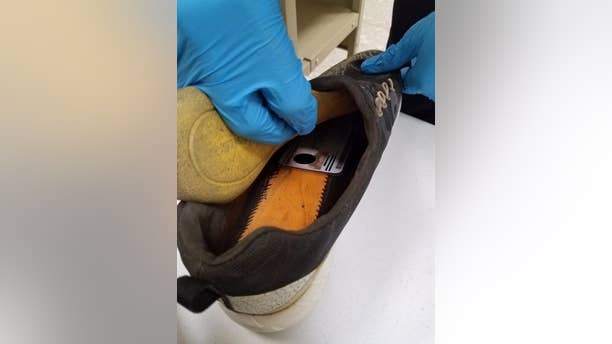 John Wagner with CBP said the snapshot at each checkpoint is compared with the individual's passport photo stored in a CBP database. He called it a quicker and easier process for passengers and agents.
John Selden, who was recently appointed general manager of Hartsfield-Jackson, echoed those praises.
"It will provide 100 percent identification, even of the most similar-looking people, like twins," Selden said. "It is a proven security improvement," he added, referencing several imposters caught in John F. Kennedy International Airport, where he previously supervised.
Officials said Americans' photos will be deleted within 12 hours, and non-U.S. citizens' photos will be saved in a Department of Homeland Security database for up to 75 years.
A growing 'Big Brother'
Selden told Fox News he not only thinks facial recognition will spread to other airports and domestic flights but that it will also become mandatory – a source of growing fear among privacy advocates.
"When biometrics are an option, that's one thing," said Alex Hamerstone of TrustedSec, an information security consulting team. In those cases, people can weigh the privacy risks and make an informed decision.
"When it becomes mandatory," he said, "that is when it gets a bit scary."
Hamerstone also pointed out that in his experience, "it isn't uncommon to see organizations not follow their own retention requirements – whether intentionally or due to badly implemented processes."
Jay Stanley, a senior policy analyst with the ACLU, expressed similar concerns in an article on the non-profit's website.
"Having 'your face as your passport' might be very convenient when you're at a government checkpoint," Stanley wrote. "But we don't want to have to 'present our passport' at every turn in American society, including walking down the sidewalk."
Stanley warned of the government's insatiable appetite for individuals' personal information, arguing that security systems should be improved through physical enhancements (like explosive detection or enhanced scanners) instead of increased identification of people.
"There is a logic of identity-based security, and it inevitably leads toward a regime of expanding information collection, surveillance, and tracking of individuals," Stanley added, noting China's wider spread use of face surveillance.
Stanley and Hamerstone both pointed out the value of one's biometrics – and the danger in those details being compromised.
"If your password is compromised, you can change it," Hamerstone told Fox News in a video chat. "You can't really change your face. There's not much you can do. It's hard to change what you are."
But Hamerstone admitted, right now, facial recognition is "pretty secure" and, if implemented correctly, using the technology "makes sense."
'If it's faster, I'm glad'
Of the several hundred passengers boarding a Delta flight to Shanghai, Fox did not witness one passenger opt not to use the facial recognition feature.
Brett Askea was surprised to see the new technology but pleased with the speed of the process.
"If it's faster, I'm glad," he said.
Another first-time user, Alicia Graham, said the biggest benefit of facial recognition is its simplicity.
"I spend so many hours in the air, I want to be able to get through the airport as fast as possible," Graham told Fox News.
It's something West can appreciate.
"As customers, we don't like to stand in line, so anytime you stand in line a minute feels like an hour," West said. He added that facial recognition can save customers 9 minutes when traveling from curb to gate.
Delta started piloting the technology in Atlanta in mid-October. Since then, Delta said less than 2 percent of passengers opted out.
Plans to expand
"If we can get this technology across the whole airport, we would be able to handle the growth of the Atlanta airport without actually building things," Selden said, hopeful to spread the technology to domestic flights.
Delta announced this week it is rolling out another biometric terminal in Detroit in a few weeks. The airline will add facial recognition technology to its domestic hubs that fly internationally over the next year.
"If we can do it here, we can do it anywhere," West said. "And the scalability is unlimited, not just to aviation but to other industries."
https://www.foxnews.com/travel/passport-boarding-pass-leave-them-in-your-bag-delta-launches-nations-first-biometric-terminal