Mom on Pakistan International Airlines recorded begging crew to open plane door after baby overheats
By Alexandra Deabler, ,
Published August 09, 2018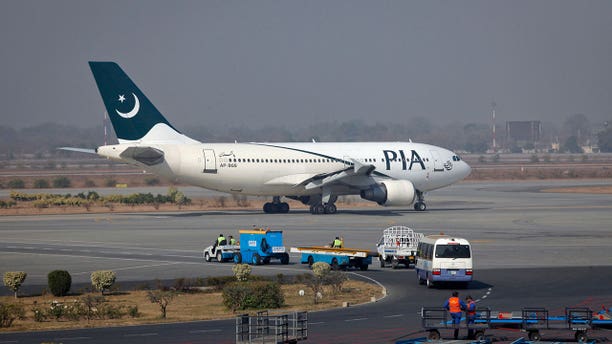 A distraught mother aboard a Pakistan International Airlines plane was recorded begging and screaming at flight crew to open the door after her baby purportedly passed out from the heat while waiting for takeoff.
According to passengers, at that point the flight had been delayed on the tarmac for 2 hours and 39 minutes.
In the video, which has been widely spread on social media, the mom and several other passengers can be seen arguing with the crew about the baby's well-being while the mom fans the child.
AMERICAN AIRLINES STAFFERS SLAMMED BY NEW MOM FOR HUMILIATING HER OVER BREAST PUMP
The flight from Paris to Islamabad was delayed at least 30 minutes, according to the airline, but passengers claim it was much longer. The temperatures in France hit 95 degrees during the scheduled Friday flight.
Hussain Ullah, who recorded the video, said on Facebook that the airline had switched off the air conditioning while the passengers sat onboard during the delay.
SILVER AIRWAYS PASSENGERS CATCH COUPLE HAVING SEX IN SEAT BEHIND THEM
The Evening Standard reported that flight crew members claim they tried to get permission to open the door, but were told by authorities that it would be "a severe safety violation."
Passengers in the background on the video can be heard shouting "shame" to the airline crew during the tense situation.
Since the incident was spread on social media, the airline has announced that they launched an internal investigation.
FOLLOW US ON FACEBOOK FOR MORE FOX LIFESTYLE NEWS
The airline did not immediately respond to Fox News' request for comment, but shared a statement on their Twitter account saying they have "asked for a detailed inquiry into the matter."
The baby and mother were reportedly moved to a different section of the aircraft before takeoff.
https://www.foxnews.com/travel/mom-on-pakistan-international-airlines-recorded-begging-crew-to-open-plane-door-after-baby-overheats