Disney facing backlash over 'Black Panther' collector's pin
By Michelle Gant, ,
Published January 08, 2018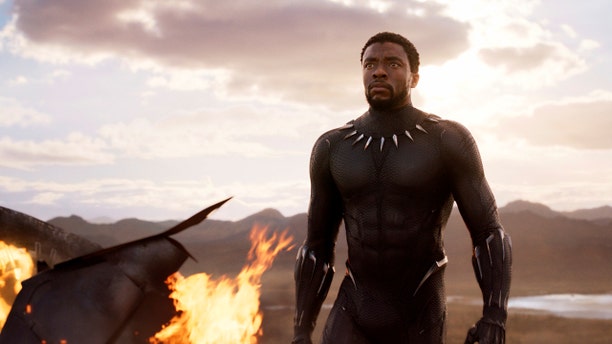 Disney is facing a wave of online criticism for the Black Panther's skin tone on a new collector's pin.
Word of the pin first began circulating on social media after an unofficial website called Disney Pins Blog wrote about its release ahead of the upcoming movie based on the Marvel character. The blog tweeted out a now-deleted photo of the $12.99 pin, available for purchase at Walt Disney World parks, which showed the masked Black Panther's face on a green background. But what people noticed most about the design was the color of the character's skin.
H&M APOLOGIZES FOR 'COOLEST MONKEY' SWEATSHIRT AD FEATURING BLACK CHILD
"...uhh... Disney? Yeah... one.......... small........ problem.......... Black Panther isn't.................................. white," one Twitter user wrote in response to the photo. Others agreed, noting how light the character's skin looked under the mask, despite the fact that the Black Panther is African.
Following the initial criticism, Disney Pin Blogs later sent out a second tweet with a new photo of the pin, noting how the store's lighting contributed to the pin's original appearance. "Sorry for any confusion the previous photo may have caused. It was unaltered, but shot under a bright light at the pin store and may have caused differences in color. We are constantly posting all of the many new pin releases and sometimes make mistakes. Thank you," the blog wrote.
However, despite the second photo, reactions on Twitter largely remained the same, with many pointing out that, regardless of lighting, the character's skin still looks too light.
"Omg even the correct lighting version looks white," one user commented.
"More brown than light, but T'Challa is black," another added.
"If it can be confused under different lights it[,] means the designers didn't do their job," another person wrote.
"I understand they need the paint to be different enough to be recognizable at a distance, but then why not just have his eyes like [they're] supposed to be?" a Twitter user commented, referring to the comic book character's appearance.
Ryan Mondics, the owner and editor-in-chief of Disney Pin Blog, told Polygon there was a large quantity of the pins still available at the World Spring Marketplace as of Sunday
FOLLOW US ON FACEBOOK FOR MORE FOX LIFESTYLE NEWS
A representative for Disney World Resorts declined to comment on the matter.
https://www.foxnews.com/travel/disney-facing-backlash-over-black-panther-collectors-pin