Watch Marshawn Lynch carve through the Raiders defense for a TD in practice
By , Cameron DaSilva
Published June 06, 2017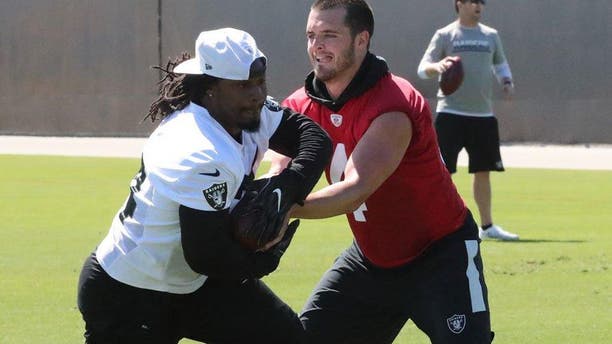 The Oakland Raiders lured Marshawn Lynch out of retirement this offseason, adding a much-needed spark at running back with Latavius Murray gone. Its still extremely early in the offseason, but Lynch seems to be fitting right in with the Raiders.
Jack Del Rio shared a video of Lynch at practice on Monday, carving through Oaklands defense with a nifty juke for a 30-yard touchdown.
That was Reggie Nelson that Lynch put through a spin cycle at the goal line, juking left then right to get into the end zone. Granted, this is OTAs so theres no pads or hitting, but Lynch showed good burst and vision on that run.
Had this been a normal practice or a game on Sunday, Lynch probably wouldve been tackled short of the goal line by Nelson. Still, its fun to see Lynch bobbing and weaving through NFL defenses once again and Del Rio is clearly excited about his new running back.
Jerry Lai-US PRESSWIRE | US PRESSWIRE
https://www.foxnews.com/sports/watch-marshawn-lynch-carve-through-the-raiders-defense-for-a-td-in-practice