Steph Curry's college coach reveals 'the defining moment' of his evolution
By , Andre Vergara
Published May 27, 2017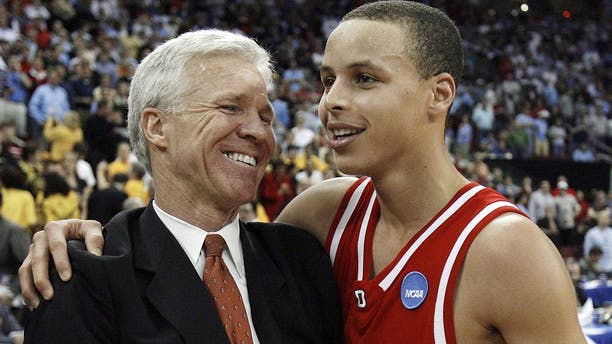 Stephen Curry is an NBA champion and a star who's changed the game with his boundless shooting ability, headed to his third straight Finals.
Curry wasn't always the Baby-Faced Assassin, though. But his college coach, Bob McKillop, saw star potential in him during his first game at Davidson.
A year-and-a-half before, in summer 2005, he'd watched Curry play in an AAU game in Las Vegas. It was not a good performance.
Stephs game was like the JV game, and Im there watching, and he has nine turnovers. Nine! Im ducking his passes," McKillop told the San Jose Mercury-Tribune this week.
But what I noticed was that he never stopped playing defense, he never complained to his teammates or the officials. He would run to the bench and look the coach in the eye, and then he was on to the next play.
He lived in the present. He never let a mistake intrude on his next step. He has an incredible capacity to do that.
Curry was equally wild in his first college game, committing eight first-half turnovers as Davidson fell behind by 16 against Eastern Michigan.
The coaches met at halftime, and we talked about taking Stephen out of the lineup he was killing us, McKillop recalled. But I reflected back on that Las Vegas tournament and his capacity to live in the moment. We stuck with him.
Curry scored 13 second-half points as Davidson rallied to win. The next game he dropped 32 on Michigan, and a star was born.
We won because he stayed in the lineup, McKillop said. That gave him confidence. It was the defining moment for him.
I still kid him about that first game, about his double-double. He had 15 points and 13 turnovers.
Brian Spurlock-USA TODAY Sports | Brian Spurlock
https://www.foxnews.com/sports/steph-currys-college-coach-reveals-the-defining-moment-of-his-evolution