Soccer: Ronaldo's Big Week, Barcelona's Bad One
By Michael Lewis, ,
Published January 10, 2017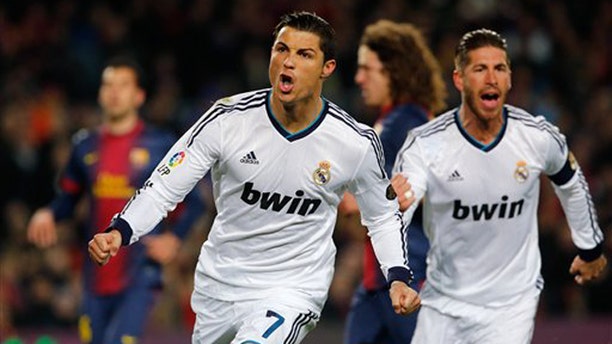 Real Madrid had an excellent week, Barcelona a horrible one.
Not surprising, both of their fates were intertwined as Real Madrid recorded not one, but two wins over its archrivals within five days.
On Tuesday, Madrid ushered its archrivals out of Copa del Rey behind a 3-1 victory at Nou Camp in Barcelona, giving it a 4-2 triumph on aggregate goals.
On Saturday, it was more of the same as Real Madrid defeated Spain's La Liga leaders at home, 2-1.
Second-place Atlético Madrid, however, did not take advantage of Barca's misery, playing host Málaga to a scoreless draw. Barcelona (68 points) holds an 11-point lead over Atlético (57) and a 13-point bulge on Real Madrid (55).
Barcelona is enduring its most difficult spell of the season, having also lost at A.C. Milan, 2-0, in the first leg of its UEFA Champions League round of 16 series. The Spanish side will host Milan next week.
"We will try to get over our circumstances and problems with hard work," Barca sporting director Andoni Zubizarreta was quoted by Canal Plus television. "We are a club who are used to difficulties and dealing with tough moments. We will not give up, we won't throw in the towel, we will compete and trust in our playing system and we have faith in our ideas."
Karim Benzema lifted Real into the lead in the sixth minute before Argentine striker Lionel Messi scored in the 18th minute, the 16th consecutive league match he had found the back of the net, tying Real legend Alfredo Di Stefano's Clasico scoring record of 18 goals. Messi has 39 league goals and 50 in all competitions this season.
But Sergio Ramos headed in a Luka Modric corner kick in the 82nd minute to lift Real to the win.
"Winning the league was more impossible with a 16-point gap, we have cut the gap and we have to keep fighting," Ramos told Canal Plus. "The Clasicos are always different and we are proud of the job that we did. We are pleased because we used different players from the squad, players who have had fewer minutes on the pitch and they have given their all and we got all three points."
Real visits Manchester United in the second leg in the Champions League on Tuesday. The teams played to a 1-1 tie in the opening leg.
"Every player wants to play a match like this," Real midfielder Kaka said. "We came off the first leg in the Bernabeu with the feeling that we could have won the game and that we can equalize the draw in England and win the playoff. Manchester is really strong but we're going to Old Trafford with confidence."
SPAIN
Carlos Vela, Dorlan Pabon
The Mexican striker again scored a goal for Real Sociedad. Vela helped key a comeback from a two-goal deficit as Real registered a 3-3 home draw with Real Betis. Vela has 12 goals, which tied him with Ruben Castro (Betis) and Aduriz (Athletic Bilboa) for fifth place in the league. Jorge Molina had given the visitors a 29th-minute advantage and Pabon, a Colombian, doubled the lead with the first of his two goals in the 49th minute. Two minutes later, Vela connected to slice the lead in half. Pabon scored the equalizer in the 66th.
ENGLAND
Luiz Suárez
For the second time this season, the Uruguayan striker recorded a hat-trick for Liverpool, which rolled past Wigan Athletic. Suárez grabbed the English Premier League scoring lead with 21 goals, moving two goals ahead of Manchester United forward Robin van Persie. Stewart Dowling tallied Liverpool's first goal before Suárez took center stage, scoring off a left-footed strike in the 18th, putting home a deflected free kick in the 34th minute before completing his assault with a goal four minutes into the second half.
"He is a pleasure to work with," Liverpool manager Brendan Rodgers told ESPN. "Not only does he have the hunger but also humility as well. With the quality of his finishing combined to the work rate, that makes him world class. There is not a better striker in the Premier League," he added. "He is clearly the Player of the Year for me. He is absolutely incredible."
ITALY
Gonzalo Bergessio, Ricky Alvarez, Rodrigo Palacio, Esteban Cambiasso
In a battle that featured two Argentine strikers and two midfielders dominating, visiting Inter Milan prevailed over Catania, 3-2, as Palacio scored twice in the final 20 minutes to turn a loss into victory. Bergessio, a forward, helped Catania to a 2-0 lead by striking for the first goal of the match in the seventh minute. After Giovanni Marchese made it 2-0 in the 19th minute, Alvarez, a midfielder cut the margin in half. heading in a Palacio cross in the 52nd minute. That left it up to Palacio, a striker, who equalized in the 70th minute and put home the game-winner off a Cambiasso pass two minutes into stoppage time.
Edinson Cavani, Arturo Vidal
Neither player scored, but one was fortunate and the other unlucky for second-place Napoli in its 1-1 draw with leader Juventus. Cavani, a Uruguayan striker who has not found the back of the net in six matches, was lucky he was not red carded for an apparent elbow on Giorgio Chiellini late in the first half. Cavani, who was given a yellow card, could receive sanctions from Serie A after a video review this week. Chiellini, who scored Juve's lone goal in the 10th minute, initiated the incident by pulling Cavani's hair. Vidal, a Chilean, set up Mirko Vucinic twice with two great feeds, but his teammate could not score. Vucinci, shot wide and sent a shot directly to goalkeeper Morgan De Sanctis.
GERMANY
Javi Martínez
Martínez, a Spanish central defender, helped set up Mario Gómez's goal in Bayern Munich's 1-0 away victory over Hoffenheim. Martínez sent a header to Frank Ribery, who in turn headed the ball to Gómez, who scored in the 38th minute.
Jefferson Farfán
The Peruvian standout scored off an assist by German Julian Draxler (two goals) in the 79th minute of a 4-1 romp over VfL Wolfsburg.
PORTUGAL
Oscar Cardozo
The Paraguayan striker converted a first-half penalty kick to boost first-place Benfica over host Beira Mar, 1-0.
Jackson Martínez, Marcos Rojo
Sporting Lisbon played Porto to a scoreless tie. Martínez, Porto's Colombian striker, missed several chances that could have lifted the hosts. Rojo, an Argentine defender for Sporting, was red carded in the 80th minute.
UNITED STATES
Fabian Espindola, Jamison Olave, Diego Valeri
Some mixed reviews for the New York Red Bulls' two newest acquisitions in their 3-3 draw at the Portland Timbers. Espindola, an Argentinean striker, scored twice in the opening 24 minutes. Olave, a Colombian central defender, did not fare as well. He was beaten on Portland's first goal, scored the Red Bulls' third goal. A shot deflected off of Olave and into the net for the equalizer in the 83rd minute. Valeri, another Argentine, enjoyed a smashing debut for the Timbers, scoring a spectacular goal in the 14th minute. His shot set up Darlington Nagbe's rebound goal in the 56th minute in Portland's comeback.
Federico Higuain, Jairo Arrieta
Higuain, the brother of Real Madrid's Gonzalo Higuain, struck for the Columbus Crew's opening goal in its 3-0 victory over host Chivas USA. The Argentine tallied in the 51st minute, firing a shot in off the right post from 25 yards after a feed from Arrieta, a Costa Rican.
Alvaro Saborio
The Costa Rican international struck for a pair of goals in the second half of RSL's 2-0 win over the San Jose Earthquakes. Saborio tallied in the 71st minute and added another score in the 80th minute.
CONCACAF U-20 CHAMPIONSHIP
Jorge Espericueta, Julio Gómez, Jesús Corona
Espericueta set up Gómez in the 99th minute and converted a penalty kick in the 99th minute as Mexico defeated the United States, 3-1, in extra time to win the CONCACAF Under-20 Championship. Corona had given El Tri a fourth-minute lead before Beni Joya tied it on a PK six minutes later. Both teams already had qualified for the FIFA U-20 World Cup, to be played in Turkey in June.
https://www.foxnews.com/sports/soccer-ronaldos-big-week-barcelonas-bad-one