Mark Sanchez, Jets Top Dolphins in 'Ugly Win'
By ,
Published December 14, 2016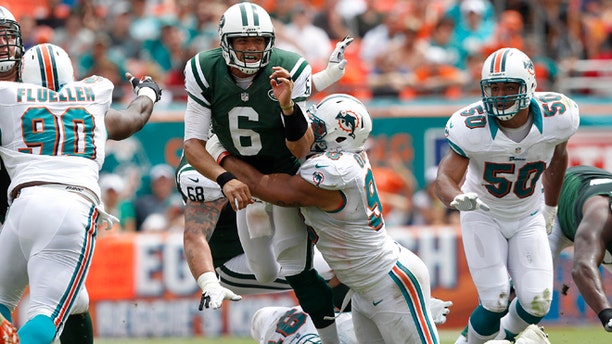 New York Jets quarterback Mark Sanchez was wildly erratic, and understudy Tim Tebow again had little impact on the offense on Sunday versus the Miami Dolphins.
But still the Jets beat Miami 23-20 thanks to a 33-yard game winning field-goal in overtime with 6:04 left.
"The defense and the other players picked me up when I didn't have it," Sanchez said. "It was an ugly win."
Sanchez hit Santonio Holmes for a 38-yard gain to set up Jets kicker Nick Folk's winning kick. The first attempt was blocked by Randy Starks charging up the middle, but the officials whistled the play dead just as the ball was snapped because Dolphins coach Joe Philbin had called timeout.
First the Dolphins missed a potential game-winning field-goal attempt, and then Folk received a reprieve. After Folk's blocked field-goal attempt was negated, his retry was successful.
The defense and the other players picked me up when I didn't have it. It was an ugly win.
"I thought it was the right call," Philbin said.  "I was planning all along to call timeout right before he kicked the ball. ... Typically we're going to ice the kicker."
Folk said he and his Jets teammates heard the whistle when Philbin called timeout, and his blockers eased up.
"I'd rather kick it than sit there and not kick it," Folk said. "I got another warmup kick."
Philbin managed a sheepish grin as Folk lined up for his second attempt. The Jets kicker then made the winner.
On the previous possession, the Dolphins' Dan Carpenter was wide left on a 48-yard attempt that would have given them the victory.
"I let the team down," Carpenter said.
Sanchez redeemed himself at the end of an erratic afternoon. His 7-yard touchdown pass to Jeremy Kerley with 3:01 left gave the Jets their first lead, 20-17.
But Sanchez twice missed open receivers for potential scores, made several wild throws and had a handful of passes dropped. He finished 21 for 45 for 306 yards and two interceptions.
"We'll take the win," Jets coach Rex Ryan said. "We're not going to give it back."
Despite the erratic Jets play, they did manage to benefit from some Tebow trickery when he called a successful fake punt and ran 5 yards for a first down.
Tebow carried one other time and lost 5 yards. He still has yet to throw a pass this year, and a third-down throw from Sanchez bounced off Tebow's helmet and fell incomplete.
"I was not expecting it that quick, but I guess I'll learn," Tebow said. "We got a win. That's all that matters."
New York improved to 2-1, and the Dolphins dropped to 1-2.
The Jets' Darrelle Revis and Miami's Reggie Bush left the game with left knee injuries. Revis was scheduled to undergo an MRI exam Monday.
New Jets offensive coordinator Tony Sparano had trouble getting his unit moving much of the day, but in the end he called just enough right plays to beat the team that fired him as head coach last December.
"I think he's happy to get the victory for the team, not just himself," Ryan said.
Based on reporting by the Associated Press.
Follow us on twitter.com/foxnewslatino
Like us at facebook.com/foxnewslatino
https://www.foxnews.com/sports/mark-sanchez-jets-top-dolphins-in-ugly-win