HAMMOND: Hendrick Teams Getting Stronger Now
By ,
Published September 18, 2015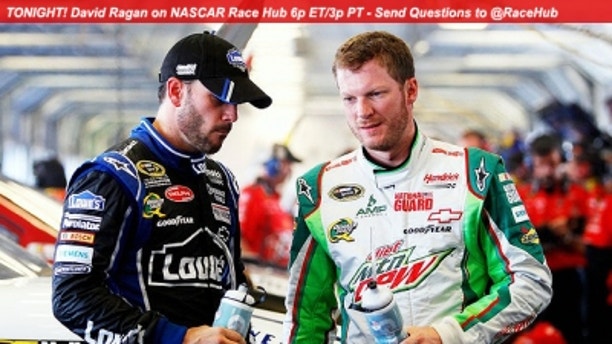 In recent races, we've been seeing glimpses of how strong the whole Hendrick Motorsports NASCAR Sprint Cup organization is getting.
Saturday night at Kentucky Speedway offered a pretty good glimpse of what the future could hold for the rest of the racing field when it comes to the Chase for the Sprint Cup, because there's an opportunity for Hendrick to to put four teams in this group. I think any of those teams, if they hit their stride, could wind up being a factor.
The fact that Kasey Kahne had his problems but then he and his team were able to overcome his problems and race his way back to really put pressure on eventual winner Brad Keselowski late in the race shows once again why crew chief Kenny Francis and Kahne make a very formidable pair. They never gave up, kept working on the car and got better and better.
As for Dale Earnhardt Jr., since his recent win and with the consistency of his team, I believe we're looking at a driver that has a hunger and a desire and a belief that he can win the championship this year, so that can make him very, very dangerous.
Now we get down to the two other X factors in this thing. Jimmie Johnson and crew chief Chad Knaus, they want this championship back. And they want it back in a really bad way and I think that what the five-time champions did all night long in running well and overcoming a setback at Kentucky puts an exclamation point of how good this team is. They have definitely handled the pressure of needing to get wins (and getting them) and they are in position to win even more races. I think Saturday night's race, where Johnson started from the pole position, just kind of slipped through their fingers because of the tires getting in the Speedi Dri and the circumstances of that one restart.
This team is poised to take the crown back, I think. They're going to be in the Chase, we know that. They're going to be one of the guys you're going to have to beat when this thing starts after the season's 26th race, at Richmond International Raceway.
With Jeff Gordon, unfortunately, we see how good he could be, but that team has to find that final part of the program. It's going to take a minimum of two wins to get them in this Chase and I just don't know if they have enough time over the next nine races to be able to win two. We've seen stranger things, like with Tony Stewart a year ago, so we know that anything can happen. But we're going to have to see a lot more aggression and creativity from Jeff Gordon over these next nine races if he is going to make this Chase.
He and his team have got the speed in the car, they've got the resiliency, they've looked good at times, but again they can't afford to miss opportunities like they had at Sonoma when they had a fast race car there and were not able to close the deal out. What I'm seeing with this group right here, there's plenty of speed, plenty of execution, but now it's a matter of how bad they want to end up in this Chase and getting wins on the board.
So what is it like for an organization with four teams that could make the Chase vs. one that has just one team performing at a top level?
I think it's easier because you're pushing each other. If you don't worry about the rest of the outside world and you're just trying to beat yourself, I think that's a very good place to be. When you feel like you have the best in class, you just happen to have four of them that are in that same class, I think that's good for everybody in the organization: Build the best cars, you're building the best engines, you're putting the durability out there, you're bringing on pit crews that are executing, so if you're pushing yourselves and the only ones that can beat you are yourselves, that's somewhat gratifying.
Hendrick has been in this position a couple of times during the course of its history, but this year could be even more special just because of the lineup that the organization has. They've got past champions, they want to be future champions, so I think it's a great combination of teams and drivers pushing each other right now.
https://www.foxnews.com/sports/hammond-hendrick-teams-getting-stronger-now