Bryan Clauson dies due to injuries sustained in dirt-racing crash
By , Tom Jensen
Published August 08, 2016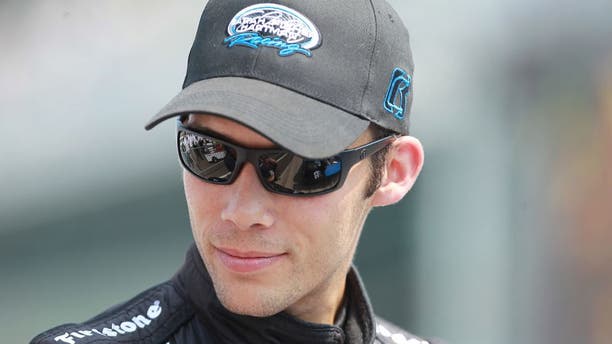 Open-wheel driver Bryan Clauson has died, USAC and Indianapolis Motor Speedway officials announced Monday morning.
The Indiana native had a horrifying crash Saturday night in the Belleville (Kan.) Midget Nationals USAC midget race. Clauson was airlifted to a hospital in Lincoln, Nebraska, following the incident.
At an 8 a.m. news conference at Indianapolis Motor Speedway, officials read a statement from Clauson's family.
"Last night, the seventh of August, we said goodbye to our son, fiancé and friend, Bryan Clauson. He was surrounded by family and friends, and we were grateful that we could experience his final moments with him.
"Our Bryan fought to the end with the same desire he demonstrated behind the wheel of all the various race cars we would park in Victory Lane.
"However, we were more proud of our Bryan that took a moment to make a young fan's day or demonstrated his uncommon kindness and appreciation towards his friends, family and fans."
"This is certainly a sad day for the racing community as a whole, and on behalf of INDYCAR and the Indianapolis Motor Speedway, we send our deepest condolences to the family of Bryan Clauson," said Mark Miles, CEO of Hulman & Co., the parent of INDYCAR and Indianapolis Motor Speedway. "Anybody who witnessed Bryan behind the wheel of a race car can attest to his elite ability, relentlessness and unbridled willingness to race anything on wheels. While he'll be remembered most as a legend of short-track racing, his participation in the Indianapolis 500 exemplifies his fearlessness, true versatility as a competitor and the pure depth of his talent as a driver."
"Short-track racing has always been the heart and soul of auto racing in America," said Doug Boles, Indianapolis Motor Speedway president. "Bryan Clauson combined his passion and enthusiasm for grassroots racing with a God-given talent that made him the favorite to win every time he got in a midget or sprint car. And he proved on the world's largest racing stage -- by leading three laps in the 100th Running of the Indianapolis 500 -- that he could use that talent in just about anything with wheels.
"More importantly, he possessed a humility and character out of the race car that made him a person that fellow competitors and fans alike enjoyed being around," Boles added. "His spirit, his positive outlook and his thrilling talent will be missed by the entire racing community. The thoughts and prayers of everyone at the Indianapolis Motor Speedway are with the Clauson family in this difficult time."
Clauson was considered the nation's top short-track dirt-car driver. He has won four USAC national championships and was participating in his 116th race of the season on Saturday night.
His schedule this year was on pace for 200 starts, and that included a 23rd-place finish in the Indianapolis 500.
The 27-year-old racer started three Indianapolis 500s and was a development driver for Chip Ganassi in NASCAR, where he competed in 26 races over the 2007 and 2008 seasons.
Clauson was a three-time winner and the defending champion at Belleville. He flipped off the guard rail between turns 3 and 4 while leading. His car rolled several times and was hit by another car.
It was his second wreck of the weekend.
He started seventh on Friday night before he was in another vicious wreck. After that accident, he posted on Twitter his appreciation for his safety equipment, his chassis manufacturer and his team for getting his car ready for him to race Saturday night.
The Associated Press contributed to this story.
https://www.foxnews.com/sports/bryan-clauson-dies-due-to-injuries-sustained-in-dirt-racing-crash