Braves reporter suffers fractured eye socket after getting hit by foul ball
By Ryan Gaydos, ,
Published April 02, 2018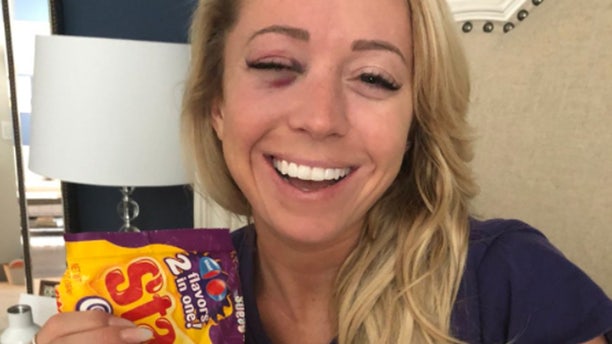 An Atlanta Braves sideline reporter suffered a fractured eye socket Friday night after she was struck by a foul ball.
Kelsey Wingert, who covers the team for Fox Sports South, was hit while standing in the camera well at the first-base dugout.
Philadelphia Phillies outfielder Odubel Herrera smacked a foul ball in the seventh inning that hit Wingert.
Wingert said in a tweet the incident "could have been MUCH worse."
Wingert was "resting comfortably" and was expected to make a full recovery, Fox Sports South said in a statement Saturday.
"Last evening our reporter Kelsey Wingert was hit by a foul ball during the 7th inning of the Phillies-Braves game at SunTrust Park," the statement said. "She was briefly hospitalized and diagnosed with a fractured eye socket. We wish Kelsey the absolute best and look forward to having her back in the rotation very soon."
Wingert retweeted a photo taken of her black eye after returning home.
The Braves released a statement wishing Wingert a speedy recovery.
The mishap comes even as all 30 big league teams have expanded netting this season to protect fans sitting close to the field, extending to the end of the dugouts.
The Associated Press contributed to this report.
https://www.foxnews.com/sports/braves-reporter-suffers-fractured-eye-socket-after-getting-hit-by-foul-ball