2017 NBA Awards Show: Nominees, how to watch, live stream info
By , Dan Graf
Published June 26, 2017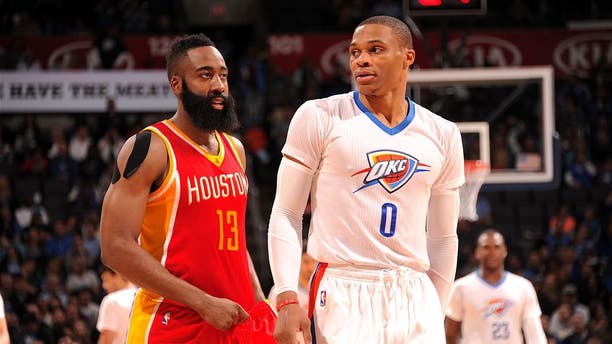 The NBA will usher in a new era of postseason accolades with its first-ever awards show Monday night.
In the good, old days, all the major awards were doled out piecemeal during the playoffs, but the new plan is to do everything at once in an awards show that runs a month-and-a-half after the end of the regular season.
Heres everything you need to know to get ready for leagues final act of the 2016-17 season.
MAJOR AWARD FINALISTS
MVP: Russell Westbrook, PG, Thunder; James Harden, PG, Rockets; Kawhi Leonard, SF, Spurs.
Rookie of the Year: Dario Saric, PF, 76ers; Joel Embiid, C, 76ers; Malcolm Brogdon, SG, Bucks.
Defensive Player of the Year: Kawhi Leonard, SF, Spurs; Draymond Green, PF, Warriors; Rudy Gobert, C, Jazz.
Sixth Man of the Year: Eric Gordon, SG, Rockets; Lou Williams, SG, Lakers/Rockets; Andre Iguodala, SF, Warriors.
Most Improved Player: Nikola Jokic, C, Nuggets; Giannis Antetokounmpo, SF, Bucks; Rudy Gobert, C, Jazz.
Coach of the Year: Mike DAntoni, Rockets; Erik Spoelstra, Heat; Gregg Popovich, Spurs
HOW TO WATCH
When: 9 p.m. ET Monday
Where: New York
TV: TNT
Livestream: NBA.com/NBAawards
Thomas B. Shea-USA TODAY Sports | Thomas Shea
https://www.foxnews.com/sports/2017-nba-awards-show-nominees-how-to-watch-live-stream-info