Scott Kelly: Year in space paves the way for even longer missions
By James Rogers, ,
Published March 04, 2016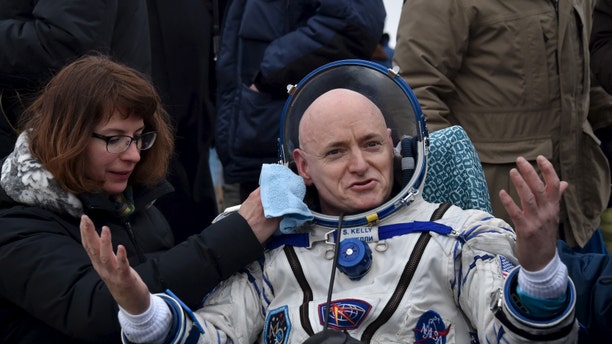 Astronaut Scott Kelly says that his epic year in space will help fuel longer-term space missions, paving the way for NASA's ambitious plan to send humans to Mars.
"I think that expanding our envelope and our ability to operate is something that will take us further from the planet," he said, during an interview with NASA TV shortly after landing in Kazakhstan early Wednesday. "Developing technology to do so is very important for our economy and our way of life."
Related: Astronaut Scott Kelly back on Earth after yearlong space mission
"By going to Mars one day, we will make things better for us here on Earth," he added.
NASA's goal is to send a manned mission to Mars by 2035, prompting extensive research ahead of an epic roundtrip journey that could take 2½-years. Radiation poses a major challenge for Mars missions, along the durability of astronauts' bodies and minds.
Related: How NASA crews could sleep for 6 months on the journey to Mars
The astronaut conducted hundreds of experiments during his 340 days in space. Scientists also studied the differences between the Kelly and his twin brother, Mark, back on Earth. They provided blood, saliva and urine samples, underwent ultrasounds and bone scans, got flu shots and more, all in the name of science.
The Soyuz capsule carrying Scott Kelly and his 340-day roommate, Russian cosmonaut Mikhail Kornienko, landed in the central Asian nation at around 10:25 a.m. local time (11:25 p.m. Tuesday ET).  They were met by freezing temperatures, just like when they launched on March 27 of last year.
Related: NASA releases stunning 360-degree Mars video
"The cold air was amazing," said Kelly, during his interview with NASA TV. "There's nothing like cold air coming into the capsule."
Kelly, who handed command of the International Space Station to NASA astronaut Tim Kopra Monday, admitted that he had mixed feelings leaving his orbital home'. "I can't say that it was a relief," he said. "Leaving the space station was bittersweet – I had been there for a long time and looked forward to leaving, but it is a remarkable place."
Related: Mars has flowing liquid water, NASA confirms

"A year is a long time – it felt like I had been up there my whole life my first six months," he added. "I am definitely encouraged in our ability to go even longer – if it was for the right reason, I could have stayed however long it took."
During a press conference shortly after his return, Kelly, who had completed his fourth space mission, was asked whether he would take another trip. "I would always consider flying in space again, without a question," he replied.
Related: Scott Kelly set to return to Earth after spending a year in space
With his return to Earth, Kelly now has spent 520 days in space, more than any other U.S. astronaut. Kornienko has accumulated 516 days across two flights, and Russian cosmonaut Sergey Volkov, who returned to Earth with Kelly Wednesday, has 548 days on three flights.
During their 340 days on the space station, Kelly and Kornienko traveled 144 million miles through space, circled the world 5,440 times and experienced 10,880 orbital sunrises and sunsets.
Kelly is scheduled to return to Houston around 11:45 p.m. ET Wednesday, according to NASA.
The Associated Press contributed to this report.
Follow James Rogers on Twitter @jamesjrogers
https://www.foxnews.com/science/scott-kelly-year-in-space-paves-the-way-for-even-longer-missions