NASA is going to play the classic arcade 'claw game' on Mars
By Chris Ciaccia
Published October 19, 2018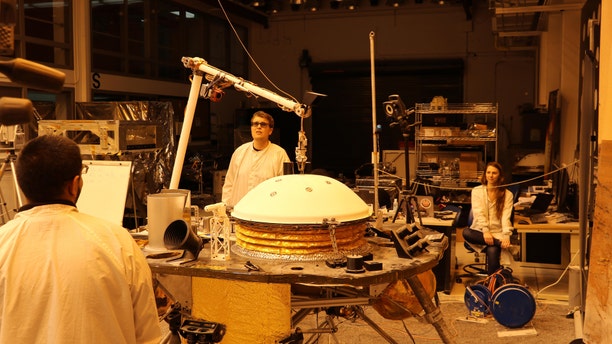 If you ever got frustrated playing the claw game at your local bowling alley or arcade because you never won anything, NASA is giving you a second chance to relive your dreams – only this time on Mars.
Earlier this week, NASA's Jet Propulsion Laboratory posted a video of how its InSight lander, set to arrive on Mars on Nov. 26, will use its robotic arm and position its sensitive instruments on the Red Planet's surface. The ambitious project is part of an effort to study the Martian interior for the first time ever.
"We have a lot riding on InSight's robotic arm, so we've been practicing our version of the claw game dozens of times," said Tom Hoffman, InSight's project manager at NASA JPL in a statement. "The difference, of course, is that, unlike the claw machine designers, our robotic arm team works hard to allow us to win every time."
NASA TO MAKE HUGE DECISION IN THE HUNT FOR ALIEN LIFE ON MARS
Here's a video of the InSight lander in action:
Once the lander, which launched on May 5, 2018 at a cost of $828.8 million, sets foot on the Red Planet, it will have to pick up two "sensitive science packages from the spacecraft deck" and then place them on the ground gently: the Heat Flow and Physical Properties Package, used to assess Mars' interior energy, and the Seismic Experiment for Interior Structure, "which will study vibrations of the ground set off by marsquakes and meteorite impacts."
After its arrival on Mars, the lander will begin a two-year experiment designed to enhance scientists' understanding of Mars' deeper interior.
The lander will dig deeper into Mars than ever before — nearly 16 feet, or 5 meters — to take the planet's temperature. It will also attempt to make the first measurements of marsquakes, using a seismometer placed directly on the Martian surface.
"The robotic arm has to place everything perfectly," said Ashitey Trebi-Ollennu, team lead for InSight's instrument deployment system operations at JPL. "But we like a challenge."
OPPORTUNITY ROVER STILL SILENT ON MARS, 4 MONTHS AFTER EPIC DUST STORM
The arm is actually a leftover part of the Mars Surveyor 2001 lander mission that never actually made it onto the craft. It was designed for lifting, which made it appropriate for the Insight mission, NASA said.
The team is confident that once its plan is in place and the lander listens to the inner part of Mars using seismic sensors, the arm can perform as needed.
"We're looking forward to the demanding work of getting InSight's claw machine in motion," said Bruce Banerdt, InSight's principal investigator at JPL. "But the prize for the InSight team won't be a fuzzy bear. It'll be the stream of science data flowing in from precisely placed instruments -- telling us what Mars is really like on the inside."
Fox News' Bradford Betz contributed to this report. Follow Chris Ciaccia on Twitter @Chris_Ciaccia
https://www.foxnews.com/science/nasa-is-going-to-play-the-classic-arcade-claw-game-on-mars