Humans came from galaxies, far, far away, scientists say
By ,
Published September 26, 2017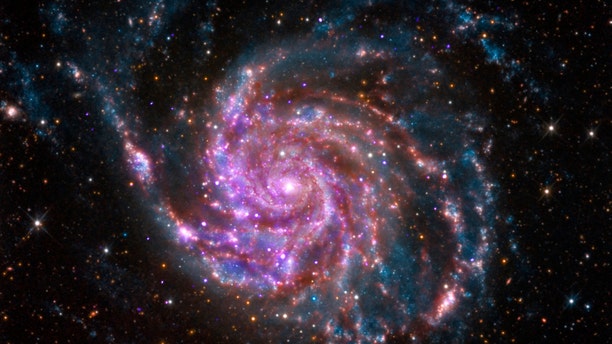 Humans are at least partly made from matter that created when suns exploded in distant galaxies, scientists say.
New research suggests that half the matter in the Milky Way — our home galaxy — comes from other galaxies throughout the universe.
As reported in Engadget, scientists from Northwestern University, University of California San Diego, California Institute of Technology, University of California Berkeley and the University of Toronto used a supercomputer to determine how galaxies are formed and the origins of the matter that would contribute to their growth.
NASA LAUNCHES APP TO INSPIRE CITIZEN SCIENTISTS DURING SOLAR ECLIPSE
What they found was that the birth of stars fueled the growth of early galaxies, but intergalactic transfer of matter through galactic wind was responsible for later increases in mass.
"What this new mode implies is that up to one-half of the atoms around us — including in the solar system, on Earth and in each one of us — comes not from our own galaxy but from other galaxies, up to one million light years away," said Northwestern astrophysicist Claude-André Faucher-Giguère, one of the authors of the article, which was published in the Monthly Notices of the Royal Astronomical Society.
CASSINI SNAPS DAZZLING PHOTO OF A 'RING-BOW' IN SATURN'S RINGS
More specifically, in words that only an astrophysicist can understand, they wrote:
Externally processed material contributes increasingly to the growth of central galaxies at lower redshifts. This includes stars formed ex situ and gas delivered by mergers, as well as smooth intergalactic transfer of gas from other galaxies, an important but previously underappreciated growth mode. By z = 0, wind transfer, i.e. the exchange of gas between galaxies via winds, can dominate gas accretion on to ∼L*galaxies over fresh accretion and standard wind recycling. Galaxies of all masses re-accrete ≳50 per cent of the gas ejected in winds and recurrent recycling is common. The total mass deposited in the intergalactic medium per unit stellar mass formed increases in lower mass galaxies.
You don't have to be a brain surgeon to understand that, because not even a brain surgeon could understand it. But it boils down to this:
Half the matter in our galaxy came from other galaxies.
https://www.foxnews.com/science/humans-came-from-galaxies-far-far-away-scientists-say