Five Years After: Hurricane Katrina Began as Unassuming Tropical Depression
By Joshua Rhett Miller, ,
Published June 22, 2015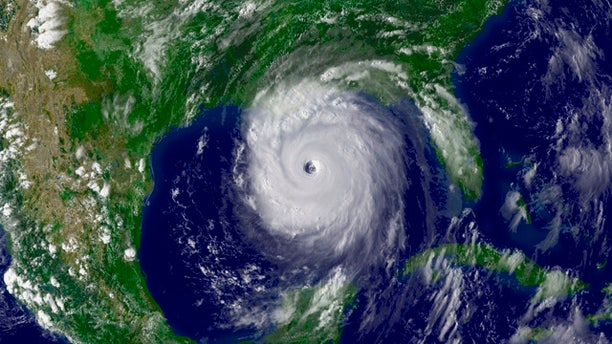 Nearly five years ago, Hurricane Katrina devastated the Gulf region, killing nearly 2,000 and displacing more than 250,000 others from Louisiana to Florida. This week, in a series titled "Hurricane Katrina: Five Years After," FoxNews.com looks back on the costliest natural disaster ever to strike the United States.
Tropical depressions are common in the Atlantic Ocean during the annual summer-fall hurricane season. So there was nothing unusual when the 12th one of the season formed exactly five years ago in the southeastern Bahamas.
And there was nothing unusual when the storm strengthened as it headed west, escalating rapidly from tropical depression to tropical storm to a hurricane named Katrina. And there was nothing unusual when it blew across southern Florida as a low-level storm and killed 12 people four days later.
But when Katrina became a Category 5 hurricane -- a potentially catastrophic menace in the Gulf of Mexico -- it was clear it was no ordinary storm.
Katrina packed sustained winds of 160 mph when it made landfall in Louisiana five days later, on Aug. 28, 2005. And by the time it had blown through the South, it had left in its wake the costliest natural disaster in American history.
Nearly 2,000 people were dead and more than 250,000 were displaced along a path that stretched from Louisiana to Florida. A beloved city, New Orleans, was in a state of siege. And the cost in dollars would be nearly incalculable -- exceeding $125 billion, according to the National Oceanic and Atmospheric Administration (NOAA).
Dr. Mike Brennan, a senior hurricane specialist at NOAA's National Hurricane Center, said Katrina was obviously a "very large, very powerful and very strong storm," but how it formed was nothing special.
"Each storm is different to some degree, but every season, there's the potential to have a major hurricane in the Gulf of Mexico," Brennan told FoxNews.com. "The genesis of Katrina wasn't remarkable, really. In the peak of the Atlantic season, you can get storms to form just about anywhere in the tropical Atlantic."
According to the NOAA's "Hurricane Katrina: A Climatological Perspective," the storm began as Tropical Depression No.12 about 175 miles southeast of Nassau, Bahamas, on Aug. 23, 2005. Days earlier, Tropical Depression No. 10 had merged with a tropical wave north of Puerto Rico. By Aug. 24, the system strengthened into Tropical Storm Katrina as it moved erratically through the central Bahamas, first along a northwesterly and then westerly track. A hurricane watch for southeast Florida was issued at about 5 p.m. on Aug. 24, 2005, followed by a hurricane warning at 11 p.m.
By 5 p.m. on Aug. 25, 2005, Katrina had moved slowly westward, becoming a minimal Category 1 hurricane at about 15 miles east-northeast of Fort Lauderdale, Fla. About 90 minutes later, at 6:30 p.m., Katrina made landfall in Florida between Hallandale Beach and North Miami Beach, with sustained winds estimated at 80 mph and gusts exceeding 90 mph.
Katrina's winds decreased slightly as it moved southwest across the tip of the Florida peninsula, but they intensified when the storm moved over the warm waters of the Gulf of Mexico. Although Katrina's sustained winds never exceeded 90 mph, there was substantial damage and flooding, and 14 people died.
"It did some damage here in south Florida, but it wasn't a major hurricane by any stretch," Brennan said by phone from Miami. "It was only over land for a little less than six hours."
Once in the Gulf, Katrina took a nearly westward track. Then a mid-level ridge centered over Texas weakened, allowing the storm to turn northwest and then north in the following days. An upper level anticyclone over the Gulf and warm sea temperatures allowed Katrina to intensify quickly, and it attained "major hurricane" status on Aug. 26.
"All conditions were favorable," Brennan said regarding Katrina's intensification throughout the next two days. "It was a really favorable environment."
The NOAA's National Hurricane Center issued a hurricane watch for parts of Louisiana early on Aug. 27, and a hurricane warning was later issued for the north-central Gulf region, from Morgan City, La., east to the Alabama-Florida state line.
Hurricane Katrina then reached Category 5 status, packing wind speeds of 160 mph and air pressure of 908 millibars by the morning of Sunday, Aug. 28.
Katrina reached its maximum sustained winds -- nearly 175 mph -- three hours later, and remained at that level until late in the afternoon, when its minimal central pressure dropped to 902 millibars, the fourth lowest on record at that time for an Atlantic storm. Hurricanes Rita and Wilma later that year would surpass that mark, knocking Katrina's record to the sixth lowest ever.
By midday on Aug. 28, Katrina was at peak strength, with hurricane-force winds extending up to 105 miles from the center, and tropical-force winds reaching outward up to 230 miles. Though comparable to 1969's Hurricane Camille -- a Category 5 storm that made landfall in Mississippi with winds approaching 190 mph -- Hurricane Katrina was a much larger storm. A late afternoon bulletin from the NOAA's National Hurricane Center warned of coastal storm flooding of 18 to 22 feet above normal levels and ominously warned: "Some levees in the Greater New Orleans area could be overtopped."
The massive storm approached Louisiana throughout the night, with its center about 90 miles south-southeast of New Orleans at 4 a.m. on Aug. 29. While winds had decreased to roughly 150 mph, gusts reaching hurricane-force levels were occurring on the coast, and a NOAA buoy located about 50 miles east of the mouth of the Mississippi River reported a peak significant wave height of 55 feet, equaling the highest ever measured by a National Data Buoy Center device.
Katrina made landfall in Plaquemines Parish, La., between Grand Isle, La., and the mouth of the Mississippi River, as a strong Category 3 storm. Wind speeds at landfall were about 127 mph with a central pressure of 920 millibars -- the third lowest pressure on record for a landfalling storm in the U.S. Gusts  at the time were reported to reach 96 mph at the Naval Air Station at Belle Chasse, La., and up to 85 mph at the New Orleans Lakefront.
By 10 a.m. on Aug. 29, Katrina's eye made its second northern Gulf coast landfall near the Louisiana-Mississippi border with winds near 121 mph. Even an hour after landfall, gusts at nearby locations like Dauphin Island, Ala., and Pensacola, Fla., reached 102 mph and 69 mph, respectively.
The storm weakened as it moved north-northeast throughout the day. Though it maintained hurricane strength 100 miles inland, at Laurel, Miss., Katrina was reduced to a tropical storm by 7 p.m. when it was 30 miles northwest of Meridian, Miss. It became a tropical depression again the next day, near Clarkesville, Tenn.
In all, Katrina was the third deadliest hurricane since 1900, topped only by the Galveston hurricane of 1900 that killed at least 8,000 and the Lake Okeechobee hurricane of 1928, which killed more than 2,500. Hurricane Katrina killed more than 1,500 people in Louisiana alone, and at least 238 in Mississippi.
Looking back, Brennan said a key lesson Katrina taught meteorologists was that the ability to predict rapid changes in intensity and storm structure is invaluable. Katrina actually weakened just before making landfall, but that weakening surprisingly did not decrease the storm's surge.
"The amount of surge that you can get from a hurricane is not just tied to its intensity," Brennan said. "In terms of lessons learned, certainly trying to be able to predict these rapid changes in intensity and structure is one of our biggest shortfalls. But forecasting intensity and rapid changes remains a challenge."
Brennan continued, "The message is just because it's not a Category 5 storm, it can still do a lot of damage."
https://www.foxnews.com/science/five-years-after-hurricane-katrina-began-as-unassuming-tropical-depression