Five Reasons the Planet May Not Be Its Hottest Ever
By ,
Published January 08, 2015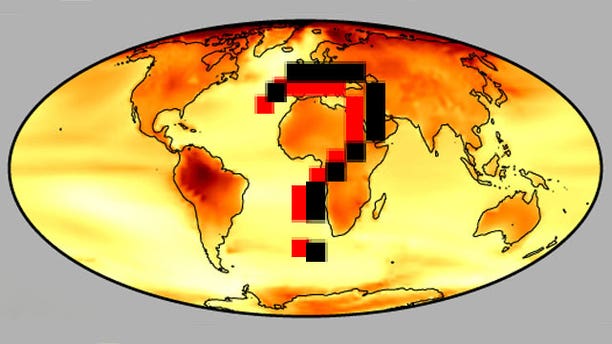 Global warming is in full swing, say some of the world's climatologists. Or is it?
On Thursday the U.N.'s weather agency announced that 2010 was a milestone, the warmest year on record, in a three-way tie with 2005 and 1998. "The 2010 data confirm the Earth's significant long-term warming trend," said Michel Jarraud, the World Meteorological Organization's top official. He added that the ten warmest years after records began in 1854 have all occurred since 1998.
But how reliable is the data? Here are five good reasons some scientists are skeptical of these claims.
1. Where does the data come from? Average temperatures globally last year were 0.95 degrees Fahrenheit (0.53 Celsius) higher than the 1961-90 mean that is used for comparison purposes, according to the WMO -- a statement based on three climate data sets from U.K. and U.S. weather agencies. They gather readings from land-based weather and climate stations, ships and buoys, and satellites -- and they've come under dramatic scrutiny in recent years.
The land data is being challenged extensively by Anthony Watt on his SurfaceStations.org website. Watts recently graded 61% of the stations used to measure temperature with a D -- for being located less than 10 meters from an artificial heating source. Many climate skeptics also take issue with NASA and NOAA, the U.S. agencies that gather U.S. climate data, but also manipulate and "normalize" it.
Satellite data is arguably the most accurate way to measure temperature. Roy Spencer, a climatologist and former NASA scientist, takes issue with the way that data is normalized and adjusted, instead presenting raw, unadjusted data on his website. The WMO does not use this data.
Watts pointed FoxNews.com to a new, peer-reviewed paper that looks at the reliability of the land-based sensor network, concluding that "it is presently impossible to quantify the warming trend in global climate."
2. There's less ice is in the oceans. Or more. Or something. The WMO report notes that Arctic sea-ice cover in December 2010 was the lowest on record, with an average monthly extent of 12 million square kilometers, 1.35 million square kilometers below the 1979-2000 average for December. The agency called it the third-lowest minimum ice extent recorded in September.
In fact, the overall sea-ice record shows virtually no change throughout the past 30 years, argued Lord Monckton, a British politician, journalist, and noted skeptic of global warming. He points out that "the quite rapid loss of Arctic sea ice since the satellites were watching has been matched by a near-equally rapid gain of Antarctic sea ice."
When the summer Arctic sea ice reached its lowest point in the 30-year record in mid-September 2007, just three weeks later the Antarctic sea extent reached a 30-year record high, Monckton said.
3. El Niño has been playing havoc with temperatures. Over the ten years from 2001 to 2010, global temperatures have averaged 0.46°C (0.83°F) above the 1961-1990 average, the report points out, calling these measurements "the highest ever recorded for a 10-year period since the beginning of instrumental climate records." The WMO notes that warming has been especially strong in Africa, parts of Asia, and parts of the Arctic.
Of course temperatures are up, said Joe Bastardi, a meteorologist with Accuweather: It's El Niño, stupid.
"El Niños cause spikes up. La Niñas drop it down," Bastardi told FoxNews.com. "Why have we gone up overall in the past 30 years? Because we've been in a warm cycle in the Pacific," he said. "But the tropical Pacific has cooled dramatically, and it's like turning down your thermostat -- it takes a while, but the house will cool."
Japan's Meteorological Agency agrees with Bastardi's conclusion, stating recently that "it can be presumed that the high temperatures in recent years have been influenced by natural climate fluctuations with the periods ranging from several years to several decades," as well as by greenhouse gases including CO2.
"This year's warming can also be attributable to an El Niño event which lasted from summer 2009 to spring 2010," the agency said.
4. Besides, it's getting chilly. 2010 may have been a warm year, but 2011 has been off to a very cold start -- and may be among the coldest in decades.
"December 2010 was the second-coldest December in the entire history dating back to 1659," noted Steve McIntyre, a climate scientist and the editor of climate blog Climate Audit. He bases his claim on data from the longest continuous record in the world, kept by The Met Office, the U.K.'s official weather agency.
It's an odd fact, one Bastardi thinks is telling. He said that the transition from the El Niño warming period into the La Niña cooling period will herald a crash of global temperatures, normalizing world heat levels -- especially when analyzed via Spencer's satellite data charts.
"If we look at the last 30 years, then the coming 30 years will cool back to where we were in the late 70s," he said. "Look at it this way. Suppose you didn't have a scale until 3 weeks ago. Every day for the last 3 weeks you weigh yourself and you are 175 or so. One morning you are 175.1 How much weight have you gained?"
You're the heaviest you have ever been, right? "If you weren't weighing yourself before, or were using a different scale, can you really say this is the heaviest ever?" he asked.
5. Forecasts are often wrong. Predicting the weather -- especially a decade or more in advance -- is unbelievably challenging. In 2000, a scientist with the Met Office's Climatic Research Unit declared that within ten years, snowfall would be "a very rare and exciting event."
And in 1970 at the first Earth Day event, one researcher predicted that the planet would be 11 degrees colder by the year 2000.
FoxNews.com recently compiled eight of the most egregiously mistaken predictions, and asked the predictors to reflect on what really happened.
https://www.foxnews.com/science/five-reasons-the-planet-may-not-be-its-hottest-ever