Man surprised to spot 7-foot boa constrictor along Mississippi River in Illinois
By Jennifer Earl
Published October 04, 2018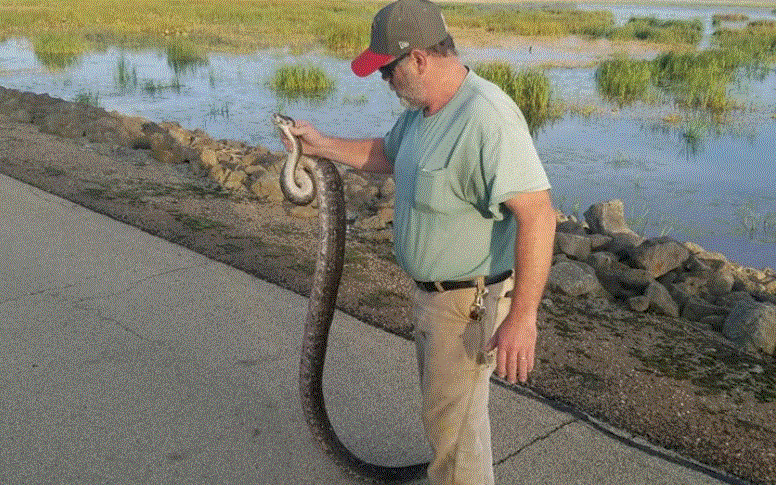 Mark Nettles was driving to work when he saw a huge, dark brown-spotted serpent lying motionless along the side of the road near a lock and dam on the Upper Mississippi River in Fulton, Illinois. The 7-foot reptile was an unusual sight for Nettles, a resident of Clinton, Iowa.
At first, Nettles thought it might have been some type of python. But upon closer inspection, it turned out to be a boa constrictor.
Either way, Nettles knew the snake didn't belong in the wild, especially given cooler October temperatures. So, he picked it up and put it in the back of his truck.
"I rescued the snake because it is not a native species. It was turned over to Illinois Conservation. They placed it with a habitat rescue in Cedar Rapids. All the right steps were taken," Nettles confirmed in a Facebook post on Wednesday, sharing several photos of the large snake.
SNAKE EATS PIGEON ON BUSY LONDON SIDEWALK AS HORRIFIED CROWD WATCHES
Photos of Nettles holding up the snake, which was as long as his body, shocked Facebook users.
"Yikes," one user wrote.
"Scary," another echoed.
"That's a big snake," a man added.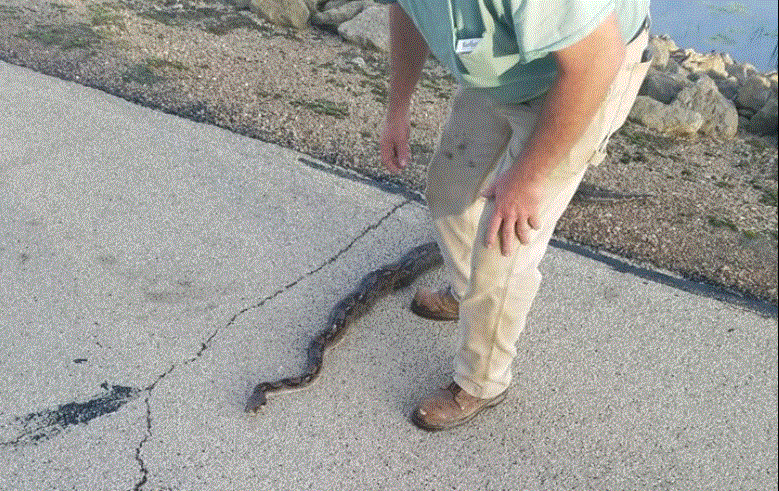 The U.S. Fish and Wildlife Service heard a boa constrictor was potentially slithering around the river in late September and advised the locals to be alert, the Globe Gazette reports. Logan Foster, of Fulton, told the newspaper he spotted the boa in the area as early as July.
The snake eventually ended up at the Upper Mississippi River National Wildlife and Fish Refuge, which made several calls to find the boa — likely a discarded pet — a new home.
'HUGE' RATTLESNAKE'S LOUD WARNING TO MISSISSIPPI MAN GOES VIRAL
Don Decker, a snake enthusiast and educator from Cedar Rapids, Iowa, volunteered to take the serpent home, according to the Gazette.
Boa constrictors are nonvenomous snakes that can weigh more than 100 pounds and reach more than 13 feet in length. The largest ever measured was about 18 feet, according to National Geographic. Boas, which hail from Central and South America, use their large bodies to suffocate their prey before feasting on them.
The snakes are considered an invasive species and are known for their surprising ability to adapt to a variety of habitats.
"Generalist predators, such as all of the giant snakes, are considered to be a greater threat as invaders: no matter where they find themselves, they are likely to locate suitable prey. They are also more likely to cause the extinction of at-risk species, since they can thrive on alternate prey as they drive the vulnerable prey to extinction," the United States Geological Survey explained in a post online.
https://www.foxnews.com/science/boa-constrictor-found-mississippi-river-illinois