The White House Struggles to Harness the Female Factor
By Kelly Chernenkoff, ,
Published December 23, 2015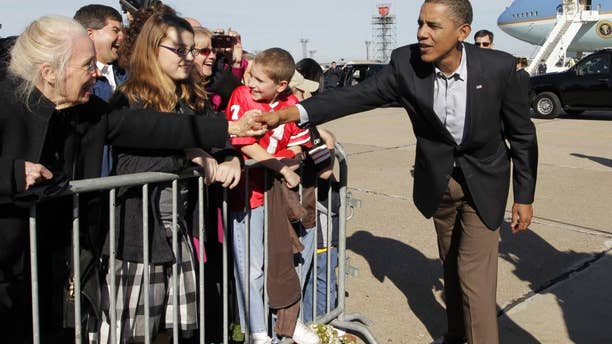 It's no secret that female voters, once a Democratic mainstay, are no longer so reliable for the party; a narrowing gender gap that President Obama hopes to put a wedge in. In a recent Fox News poll among female likely voters, 44 percent of those asked said they would vote for a Republican candidate and 43 percent said they'd vote for a Democrat. That's a shift from the 56 percent of female votes Mr. Obama garnered in 2008, according to Fox News exit polls that year.
In the closing days of an election that most analysts are predicting could spell upset for the Democrats, the administration isn't taking women voters for granted. The White House is layering its support for two female incumbent Senators in key toss-up states, using their best-known roster: the first and second couples. The president is stumping for incumbent Senators Patty Murray of Washington and Barbara Boxer of California on his four-day campaign blitz, that began Wednesday night. Both Senators also got a visit from Vice President Biden and will be hosting joint appearances next week from Michelle Obama and Dr. Jill Biden.
It's an effort to stem discontent among women that the White House hopes will pay off. Women are gaining a stronger hold in the working world, so the impact of an economic downturn is becoming more personally bruising and it's Democrats who are taking the blame. As election calendar days continue to lapse, the White House's National Economic Council is releasing a report on the impact of the recession on women and, says a White House press release, "how the Obama administration's economic policies benefit American women."
Mr. Obama will roll out these efforts targeted at the female population in a backyard conversation Thursday just before taking the stage with Senator Murray. White House Press Secretary Robert Gibbs denies the focus on women has a political component. "[T]he timing isn't political," Gibbs told reporters Wednesday, while listing past efforts to support women's causes.
"It's an issue that obviously is on everybody's mind and I'm sure is on the minds of people of the states that are represented by women in the Senate and those that aren't."
https://www.foxnews.com/politics/the-white-house-struggles-to-harness-the-female-factor